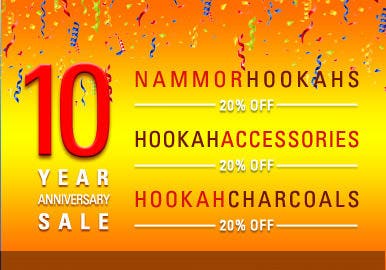 10th Birthday Sale! 20% off all Nammor Hookahs, Hookah Charcoals, and Hookah Accessories!
By
Grabertrain
/ April 16, 2010
Update 4/26/10 – The 10th Anniversary Sale has come to an end, but stay tuned for upcoming promos and discounts! Happy Smoking!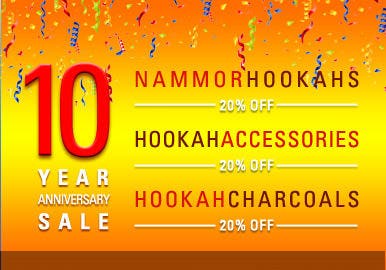 O frabjous day! Hookah-Shisha.com is 10 years old! Callooh! Callay!
To mark this momentous occasion - a whole decade of servicing and educating the ever-growing hookah community - for the next 10 days we're taking 10% off all...what, that's not enough? How about we double that and make that 20% off? Yeah, that's the ticket!
20% off
our
Nammor Hookahs
,
Hookah Charcoals
, and
Hookah Accessories
. No coupon code needed!
| | |
| --- | --- |
| | Nammor Hookahs - our pride and joy. These outstanding hand-made Egyptian hookahs are manufactured in our own overseas factory (read more about them here) and are packaged together for the best smoking experience possible. Give them a try, we guarantee you'll like what you see! |
| | |
| --- | --- |
| Take 20% off all single packs of Hookah Charcoal, both natural and quick-light! | |
Last but not least, all
Hookah Accessories
, from glass hookah bases to hookah bowls and everything in between is included in the birthday sale as well. Pick up that hookah hose that you've been eying for a while, or stock up on hookah mouth tips for that hookah party - on the cheap!
Categories
Recent Post
Month Lists