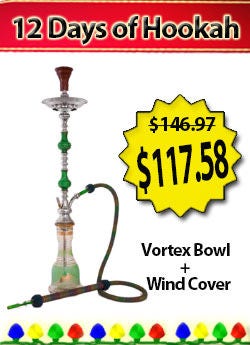 12 Days of Hookah Holiday Sale!
By
Katie
/ December 17, 2013
Sale ends December 25, 2013
Regardless of what holiday you celebrate, everyone likes a good sale. We'll be rolling out a new discounted hookah every day for the 12 days, by the end of the sale, there will be twelve awesome hookahs to choose from. You can get all deals, regardless of their designated 'day', through the end of the sale (December 25).We're giving you such a good discount that you can afford to get one for yourself AND a friend. Happy smoking to all!
On the first day of hookah, Hookah-Shisha.com gave to me...
Categories
Recent Post
Month Lists