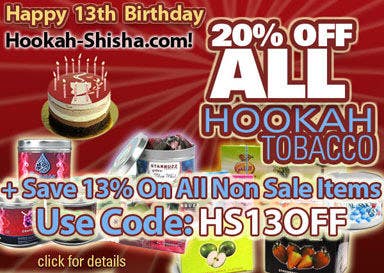 13th Birthday Sale Part 2 - 20% Off ALL Shisha Tobacco & More!
By
Grabertrain
/ April 12, 2013
Edit 4/23 - Our Birthday Sale has come to a close, but you can still use coupon code
HS13OFF

to take 13% off all non-sale items in our store! This coupon code will expire on April 29th at Midnight! Happy Smoking!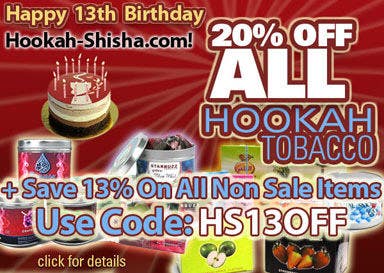 Howdy Hookah Friends, and Happy Birthday to us! Today, Tuesday April 16th, is our 13th birthday and to celebrate we're taking 20% off ALL Shisha Tobacco!
NO COUPON CODE REQUIRED!
All Brands, All Sizes!
Remember that because you don't need a coupon code to take advantage of this sale, be sure to check out all the available coupon codes so you can get some free stuff on your order!
Don't forget that we're also marking down the price of 2 of our most popular mini hookahs, the Mya Petite Hookah and the Mya Econo Gelato Hookah - both the single hose and the double hose!
Plus we're bringing back an old favorite - the Ultimate Cloud Machine!
Even more deals!
Mya Wood Handle Hoses - All colors!
Ignite Quick-Lighting Hookah Coals 33mm Box
Vortex Hookah Bowl - 15% Off!
Phunnel Hookah Bowl - 25% Off!
The 20% Off Shisha Tobacco Sales ends Monday, April 22nd at Midnight CST. Happy Smoking!
Categories
Recent Post
Month Lists