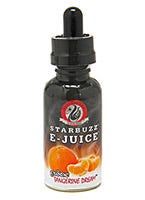 4 New Starbuzz E-Juice Flavors
Starbuzz E-Liquid takes all of the great taste and huge clouds of Starbuzz shisha from your hookah to your refillable e cig. Available with or without nicotine, and in over 15 different flavors, Starbuzz E-Juice offers a tasty option for all of the vapers out there. We have just received in 4 new blends which are all derived from some of Starbuzz's most popular shisha flavors.
Tangerine Dream is Starbuzz's interpretation of a creamy orange desert flavor. If you are a fan of the taste of an Orange Julius or an Orange Creamsicle, this is a flavor you should check out.

Irish Peach is a sweet, candylike peach flavor which has been described by some as tasting like a peach flavored bubblegum. If you want the taste of peach in your pocket, take a look at Starbuzz Irish Peach E-Juice.

Coco Jumbo is an incredibly popular and enticing flavor. Blending the cool flavor of coconut with a nice fresh lime flavor is a winning combination and should be in any vaper's flavor repertoire.

Double Apple is the #1 choice of traditional hookah smokers and has been one of the world's most popular shisha flavors for as long as people have been smoking flavored shisha. Destined to become a best seller for vapers too.
Categories
Recent Post
Month Lists