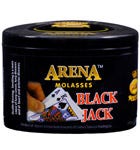 Al Fakher Arena Hookah Tobacco - A New Line of Contemporary Flavors from Al Fakher
By
Grabertrain
/ April 5, 2012
The most popular shisha brand in the Middle East is reaching out to a Western market and introducing a new line of modern flavors! From the producers of Al Fakher Shisha Tobacco and all the way from the U.A.E. comes Al Fakher Arena Hookah Tobacco, which retains the same Al Fakher quality and cut but with flavors emulating other popular hookah tobacco flavors on the market. Arena shisha is currently available in 5 flavors in a 250g size with unique packaging, so if you like Al Fakher you'd definitely should give these a try. Let us know what you think!
| | |
| --- | --- |
| | Black Jack - Double down with this tasty tobacco flavor which has notes of rich fruits, like raspberry and blackberry with undertones of spice. It's similar to a flavor from anther brand that has a playing card for a name. |
| | |
| --- | --- |
| Hot Ice - This flavor with a seemingly contradictory name is a spicy fruit flavor (several of us here got a nuanced blueberry taste) with a hint of mint and leaves your palate with a nice cooling feeling. | |
| | |
| --- | --- |
| | Power - What does this hookah need? More Power! *Tim Allen grunt sounds*. This powerful shisha flavor tastes much like a Monster Energy Drink. |
| | |
| --- | --- |
| Speed - Pop quiz, hotshot. What does this flavor taste like? If you said "lemon lime" you'd be correct. This tastes much like a popular flavor from another popular brand that has a name reminiscent of a spelunking buccaneer. Whoa. | |
| | |
| --- | --- |
| | Sweet Drops - A well-balanced sweet fruit flavor with a strong strawberry and light watermelon taste with just a dash of mint for a nice cool aftertaste. |
Happy Smoking!
Categories
Recent Post
Month Lists