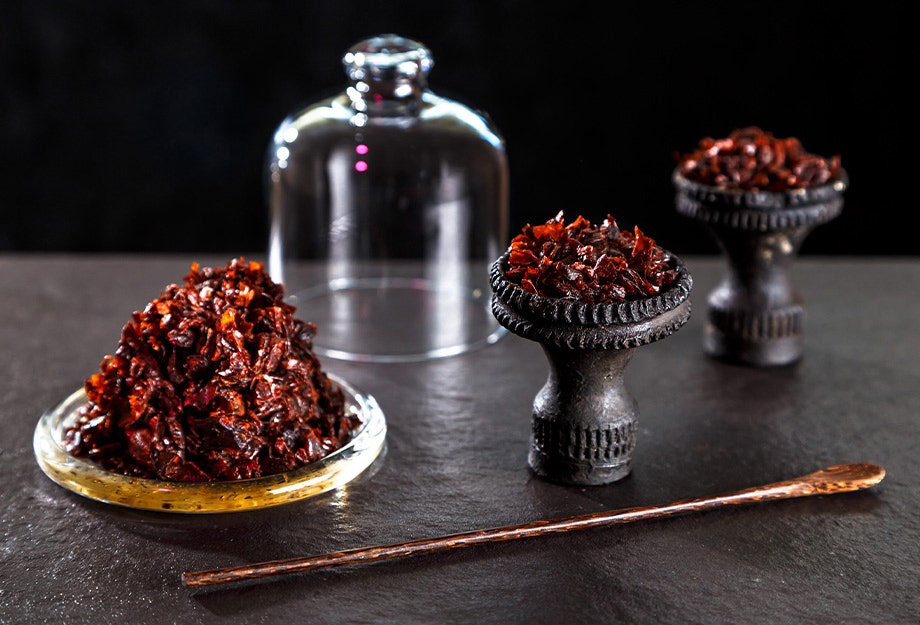 The Al Fakher Crafted Batch Tobacco Guide
By
smokeorpass
/ July 23, 2019
Howdy party people. Are you ready for a new era of Al Fakher flavors? The genius minds at AF have been hard at work developing their latest edition titled "Crafted Batch" and you're about to learn all about it.

Al Fakher has been providing the hookah industry with delicious single note blends since before some of you were even conceived (for the older crowd we'll say the 1980's).
The single note blend approach created a huge following because fans could easily pick up the exact flavor profile desired, without having to decipher an off-the-wall flavor name.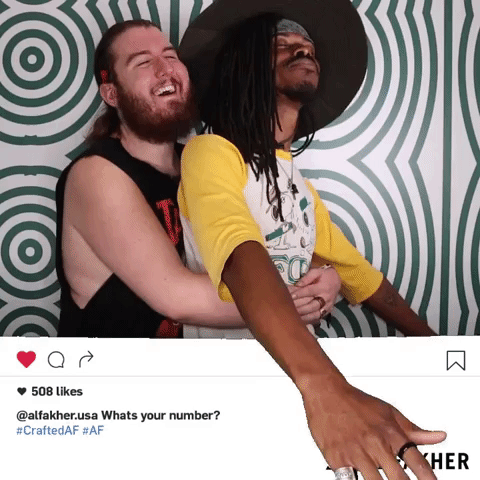 (enjoying our time at the Al Fakher Crafted Batch launch event)
This new series has a different approach as it takes Al Fakher to an area where they've dabbled with in the past;
CUSTOM MIXES.
What Is Al Fakher Crafted Batch?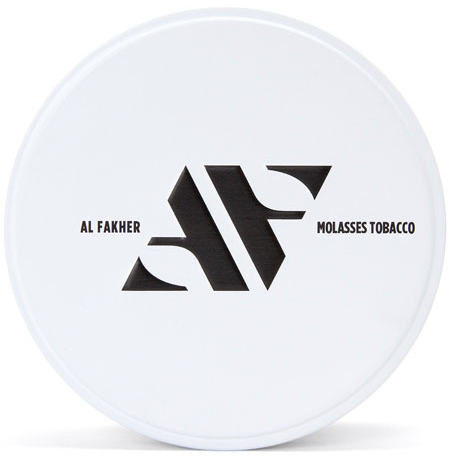 The serious AF fans will remember the old "Special Edition" series that contained some unique flavor blends that utilized flavors unseen in their standard lineup. This collection disappeared a few years ago and fans have been craving for another series of blends from the great mix masters of AF.
Ladies and gentlemen, I would like to introduce you to the Al Fakher Crafted Batch Edition. All this time you might've thought that Al Fakher had given up on making those custom blends, instead they were hard at work on something magical for you.
This new collection of tobacco is just as easy to use as all the original Al Fakher flavors. So, you can keep on using your favorite bowl and hookah with your next session.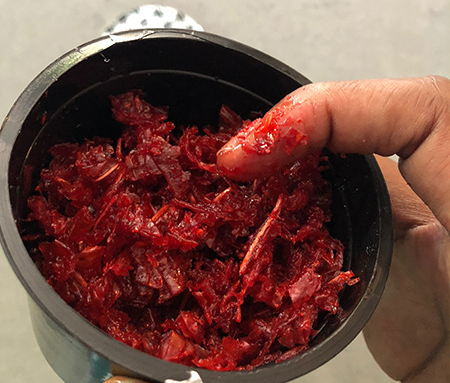 Al Fakher Crafted Batch flavors deliver a hefty amount of bold flavoring through a roller coaster experience in new depths of flavors.
The crafted batches contain slightly more juice than the standard line of Al Fakher and we don't recommend patting this shisha any bit dry while preparing the bowl. You'll want all the extra bits of flavoring inside your bowl to get the full flavor experience. Before you smoke any of these blends be sure to mix up the shisha to evenly distribute the juices.
Al Fakher Crafted Batch Flavors
Alright, enough about the series let's get talking about what's really important...THE TASTE. The current lineup gives you 6 flavor options to choose from and we'll give you our first impressions below.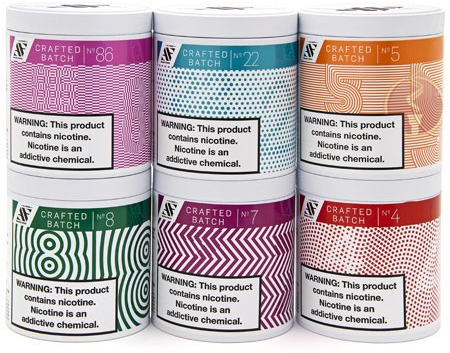 Each flavor will arrive in white cylindrical containers with a separate interior container that is sealed tight for ultimate freshness. All of the flavors are available in 250g sizes and we might see some new size options in the future. This series will continue to grow on our site, so check back to see if we're smoking on something new or join our newsletter for instant updates.

AF Crafted Batch #04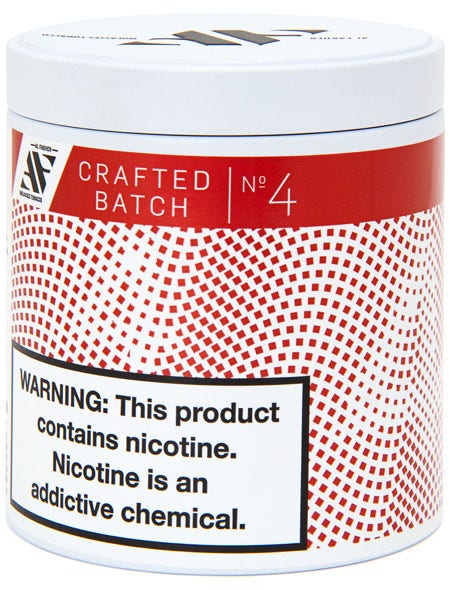 "Let's start with a classic taste and improve it TEN FOLD." This is what I believe was going through their heads when they crafted this mix because it uses one of the earliest flavors in hookah history...APPLE. This isn't a single apple blend and it's definitely not a double apple blend.
What we have here is something special that produces a taste of red apple spice, slightly sour green, and an overall sweetened apple flavor profile. After this formula was perfected with the perfect balance of apples, they revisited this blend to add a touch of crisp cooling.
It's not their natural mint taste that you would find in the OG line. Instead, it's a new cooling experience that sends your session into outer space.

AF Crafted Batch #05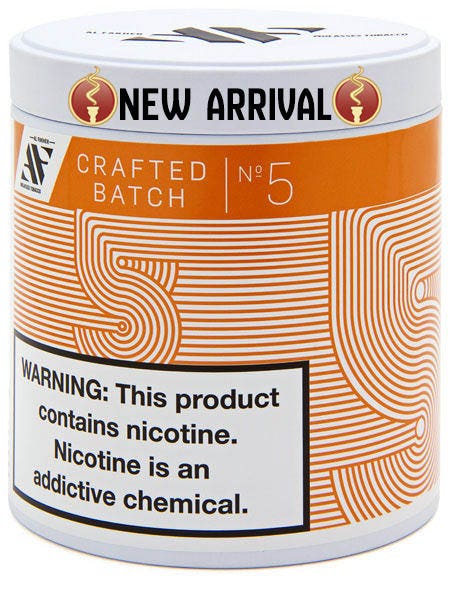 Did we just walk into the candy shop? When it's time to party and you're looking for a sweet mix to toss into a bowl quickly, look no further than #5! This crafted blend is super powerful in the candy aroma category and our sweet tooth is looking to conquer a craving.
The flavor composition listed on the can says that this mix is comprised of orange, pineapple, raspberry, and lime. As previously stated for the Crafted Batch series, you'll be able to experience new flavors that aren't available in the standard AF range like this new raspberry and lime profile.
The Al Fakher flavor team is full of mixologist and they've balanced this blend enough for you to be able to taste the listed flavors and watch them combine for a delicious mixture. On the first sniff you'll easily detect pineapple and the same can be said with the smoke output, but after a couple puff you'll know something new is building up.
The party is in full swing once the raspberry and lime warms up and creates super sweet clouds. It might be a little hard to pass this hose or even put it down when you have #5 smoking.
AF Crafted Batch #07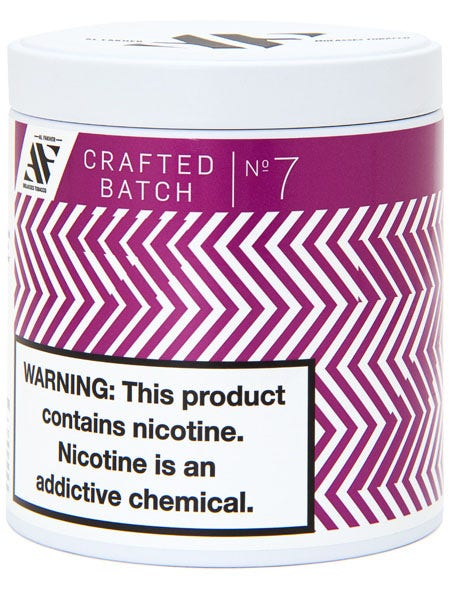 Once again for the people in the back, we've been enjoying Al Fakher for a LONG time and we like certain blends like blueberry because of the sweetness. The 7th crafted batch is SWEET! This sweet hit caused a slight double take in the first session, and I even stood up (mid exhale) to go grab the can and smell it again because of the unique flavor delivery.
The first aroma to crash land into your nostrils will most likely be a new passion fruit flavor. This is a new flavor profile for Al Fakher and they nailed it! It actually tastes like they're using multiple versions of passion fruit in #7, but that's a secret AF will keep.
It's not a custom blend if you're only using one flavor profile and lucky #7 is comprised of two. Are you ready for the finisher? This new AF passion fruit formula is expertly paired with a zesty grapefruit that shines bright throughout your session. If you've tasted the grapefruit flavor from their standard collection, this one is better and I might be convinced that there's a splash of orange.
AF Crafted Batch #08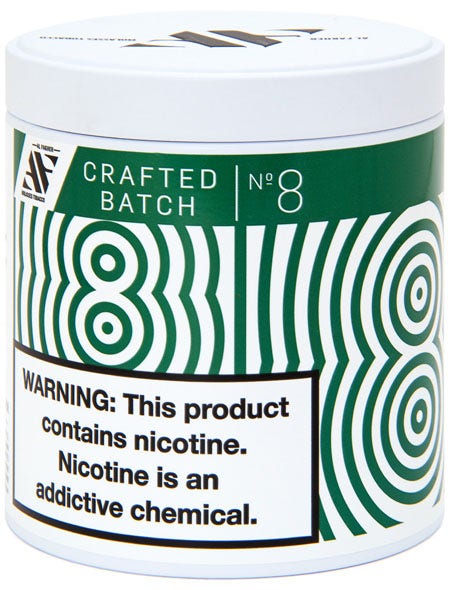 This is where we let the viewers at home know that this is an inside job. We may or may not have had the opportunity to taste test some flavors before they were finalized. Hello #8,t we've missed you….ALOT.
This is perfect for a morning, mid-day, or evening smoke, during any season of the year. This is the citrus combo you've always wanted but never knew it existed. The #8 blend combines two classic flavors (lemon/lime) with a brand spanking new flavor profile...GREEN TEA.
"A roller coaster experience in new depths of flavors."- Me
A regular lemon-lime blend is cool but we've all been there before. AF had to make this combo standout for this mix and they achieved that by using a combo of sweet and sour lemons, paired with a vibrant lime aroma.
This citrus couple is united with a subtle green tea note that includes a tea leaf after taste with a splash of sugar. This should arrive by the third exhale of thick clouds and it hangs around through the adventure of your session.
To prevent this blend from becoming too bitter or warm, there's a minty undertone to #8. This time around it's not a cooling mint, but more of a colder version of their standard mint.
AF Crafted Batch #22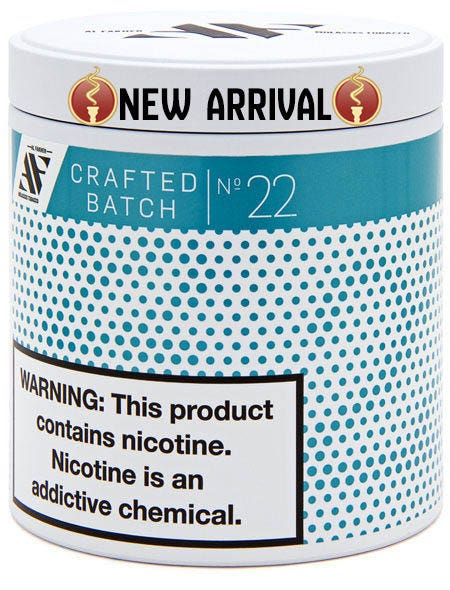 Can I see your I.D.? We've got some tequila flowing over here!
You heard that right, TEQUILA! This mix won't get you drunk but it will give you a nice buzz and a powerful blast of flavor. This new taste profile is also supported by a shot of fresh lime juice and a hint of eucalyptus. Do we have you attention?
To be honest we made a "face" after reading tequila because it's not something we see EVER within the shisha market as a solo flavor or blended. Is it gonna be a strong amount of Tequila? Will it taste weird starting up? Why Tequila? We had a lot of questions and the only way to answer them is with a smoke session.
After busting the lid open we were surprised by the aroma strength of sour lime followed by a unique sweetness and cool floral scent. Our fear of an overbearing amount of tequila shisha was put to rest after the sniff test but we still needed the full smoke session for all the answers.
YUM. Al Fakher really delivered a new experience with batch #22 and we'll be smoking on this for a while. The spotlight of this session was the lime as it was the easy to detect and hangs around throughout the entire session. If you didn't know tequila was in the mix the taste would likely end up being that one flavor you enjoy for some reason, but can't really explain it to others like a secret ingredient.
The subtle cooling that happens within this session comes from the eucalyptus and it's use as a connector for the two primary flavors. It's a stealthy component to this mix because it's hard to pick up for the smell but then POOF it appears in the smoke session.
This is a blend we'll remember!
AF Crafted Batch #86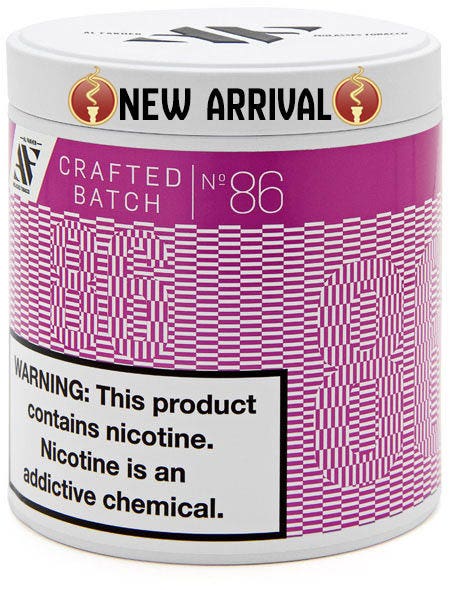 It's a purple can, what do you think the chances are that it will be a grape flavor? A betting person would say HIGH and we say PAY THAT PERSON!
We're ending this second wave of Crafted Batch blends with a combination for the books.
Let's start this description of with the basics, you're going to have a lot of grape in this session. It smells and taste like a combination of sweet white grape notes with several splashes of dark grape juice.
The darker grape taste is accentuated by a slick combination of two new AF profiles mulberry and raspberry. We've NEVER had mulberry on the shisha market but it's a taste you might be familiar with because it creates a variety of taste experiences that typically revolve around the flavor of a grapefruit.
This blend's recipe is looking a like a great session right? There couldn't be anymore to add right?

Wrong. Al Fakher broke the door off the hinges with these next component and we're very thankful that they took their time to make each batch extremely special.
Allow us to introduce you to our friends mulled wine & lime, they'e here and they want all the smoke! The mulled wine adds a darker depth of flavor to this but it also arrives with some subtle spices that play off well with the lime. If you want to impress someone with minimal effort, just toss #86 in your bowl and put some coals on top. THE END.
That's A Wrap For Now
You've got 6 flavors to choose from today and we'll have even more blends available as they're released exclusively at hookah-shisha.
What flavor would you make in you custom batch? Let's us know in the comments below and we'll get your feedback over to the mixologist.
Categories
Recent Post
Month Lists