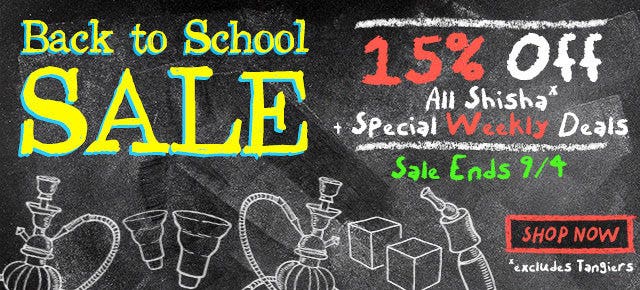 Hookah-Shisha Back To School Sale
By
SmokeOrPass
/ August 14, 2018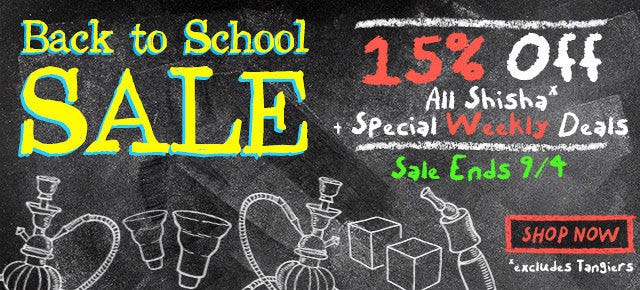 College students are about to return to classes and start new classes around the world. We know from personal experience that a nice hookah session improves your study session by tenfold, so we want to help you stock up for the upcoming semester.
What happens if you're not a student? It's all good because we know you did some schoolwork at one point in your life; so think back to that period and grab your favorite flavors!
What's On Sale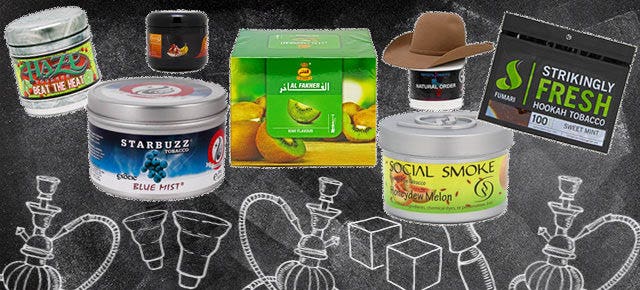 During our back to school sale, you can save 15% on all of our hookah tobacco, excluding Tangiers tobacco. (Tangiers starter kit is still on sale)
This is the perfect time to try out new brands like Azure, Trifecta, and Nu Tobacco flavors. But we completely understand if you want to stick to your winners from the classics like Starbuzz, Al Fakher, and Social Smoke.

We have some tricks up our sleeves this year, so check this page for new updates for the weekly deals or sign up for our newsletter. This week we're celebrating the return of SHIKA HOOKAHS
More Amazing Deals You'll always be able to catch a deal across all our HOOKAH CATEGORIES but we're gonna sprinkle a little more on top for you. The Oduman N2 & Mini Tank are both on sale for the weekend. CocoBrico charcoal is 15% off throughout the duration of the sale and select Tangiers and Alpaca Bowls are on sale, with more to come.
Hit Those Books!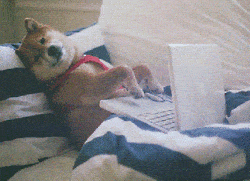 Be on the lookout across our social media pages for back to school themed giveaways.

Thanks for studying with us!
YOU ROCK
HAPPY SMOKING
-Smokeorpass
Categories
Recent Post
Month Lists