Back To School Sale at Hookah-Shisha
By
Katie
/ August 12, 2013
This Sale has ended, but you can see our active discounts and hookah coupon codes on our hookah discount code page.

Our annual Back to School sale has begun! Expect lots of great deals over the next few weeks as we present to you the best products in the world of hookah at the best prices around. We're kicking things off with a huge sale on ALL of our Egyptian and Nammor hookahs. Save at least 15% on the hugely popular Nammor Euphrates, Nile Egyptian, and dozens more. No coupons code needed for this sale, but speaking of coupons, keep reading for 8 amazing back to school coupon codes that we are running through 8/19. Get free coals, free bowls, free hookahs, and so much more. This is the sale of the summer so don't let these deals pass you by!

8 Awesome New Coupon Code Deals
For one week only you can save money on hookah coals, hookahs, shisha bowls, and more! All orders qualify for a free gift, but the more you spend, the more free swag you're going to have delivered right to your doorstep! Choose from one of the 8 awesome coupon codes below to get some great freebies included with your next order. Just remember that you can only use one code per order and that they expire on August 19, 2013!
The Coal Mine

No one like buying coals, right? All hookah smokers need them, but it's kind of like buying gas for your car. It's necessary, but not very exciting. Well this week, the coals are on us. Just spend $100 or more on fun stuff like hookahs, new shisha flavors, or anything else in our store and get almost $30 worth of high quality hookah coals for free! Just use the coupon code COALMINE100 at checkout and leave the rest to us.
The Bowl Arsenal

How many hookah bowls do you own? If the answer is one, well, that's the wrong answer. With so many different brands of shisha, and so many different shisha alternatives floating around you are going to need more than one bowl to properly pack and smoke all these different variations. For this week only, spend $125 or more and we will hook you up with an entire arsenal of hookah bowls. A Phunnel for your juicy shisha, a Power bowl for your Al Fakher, a Vortex Bowl for when the party is at your house, and an Ultimate Combo Bowl for those days where you can't be bothered to mess with foil. Use code BOWLARSENAL125 at checkout and we will take care of the rest.
The Ice Machine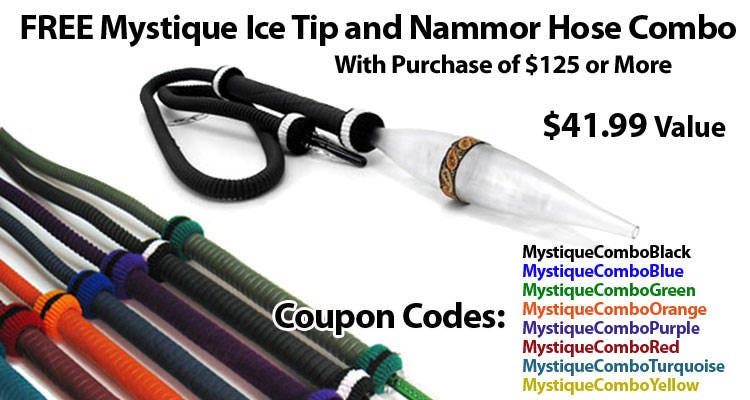 What's cooler than cool? ICE COLD! That's never been more true than in the world of hookah. If you want your smoke to tongue tickling-ly cold then look no further. Our exclusive Nammor hose and Mystique Ice Hose Tip combo pack is here to freeze you in your tracks. Spend $125 or more this week and you can pick up a combo pack on us for free. With 8 different colors available, there's a Nammor Mystique combo pack for all comers. Just enter one of the codes below at checkout and we'll handle the rest!

MystiqueComboBlack - Black Nammor Hose and Mystique Ice Hose Tip

MystiqueComboBlue - Blue Nammor Hose and Mystique Ice Hose Tip

MystiqueComboGreen - Green Nammor Hose and Mystique Ice Hose Tip

MystiqueComboOrange - Orange Nammor Hose and Mystique Ice Hose Tip

MystiqueComboPurple - Purple Nammor Hose and Mystique Ice Hose Tip

MystiqueComboRed - Red Nammor Hose and Mystique Ice Hose Tip

MystiqueComboTurquoise - Turquoise Nammor Hose and Mystique Ice Hose Tip

MystiqueComboYellow - Yellow Nammor Hose and Mystique Ice Hose Tip
Free T-Shirts

If you have ever wanted to sport one of our awesome (and customer designed) t-shirts before, this is your chance. This week you can get a free Hookah-Shisha.com T-Shirt with any order over $35. This includes our 3 newest designs, The Robot Shirt, The Steam Punk Shirt, and The Octopus Shirt. Just add your favorite shirt to your cart and then use the coupon code FREESHIRT35 to get the shirt for free!
Free Econo Thunder Hookah

We've made our already awesome Free Econo Thunder Hookah deal even better by lowering the price point from $250 to $200 for this week only. The Econo Thunder hookah is a beautiful silver pipe with a gorgeous cut glass base which looks like it would be right at home in a fancy crystal chandelier. Use the coupon code FREETHUNDER at checkout and we'll add one to your order free of charge!
Free Furat Hookah

They say that good things come in small packages, and whoever said that must have had an Egyptian Furat hookah sitting in front of them when they coined the phrase. Our precocious little egyptian hookah pipe pumps out huge clouds just like the big boys but at a super low price, which in this case is $0.00. That's right, we're giving away Furats on any order over $100. That's a $34.99 value which will provide you with hours upon hours of sweet sweet smoke. Just use one of the codes below at checkout and we will take care of the rest.

FreeFuratG - Green Furat Hookah

FreeFuratBk - Black Furat Hookah

FreeFuratBl - Blue Furat Hookah

FreeFuratR - Red Furat Hookah
Free Shiazo Organic Sample

Have you tried Shiazo Organic Steam Stones yet? This innovative shisha alternative has become quite popular as it is a great option for smokers looking to remove nicotine from their shisha sessions. If you've never tried Shiazo but are interested, boy have we got a deal for you! Just use the coupon code FREEORGANIC at checkout and we will include a free sample of Shiazo Organic Steam Stones with your order!
Limit of 1 Coupon Code per order.
Categories
Recent Post
Month Lists