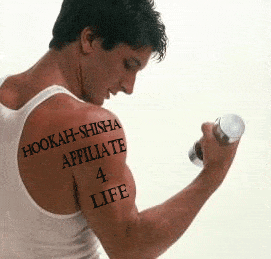 Be a Hookah-Shisha Affiliate & Earn Store Credit!
By
Katie
/ August 7, 2012
Are you hip enough to be an affiliate? Of course! You're here aren't you? Don't know what an affiliate is? That's alright, we're going to tell you how you can get oodles of free store credit when you share the gospel of Hookah-Shisha.com with your friends.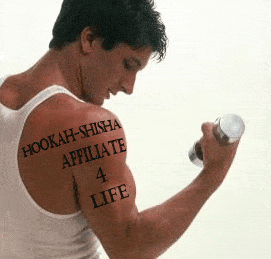 What is an Affiliate Member?
When you become an affiliate of Hookah-Shisha.com that means that you like what we do, you dig our products, and you want to tell others about us. You will earn credit on your H-S account every time someone buys something from us thanks to your suggestion! This can be very lucrative for you, especially if you have a large, loyal following on Twitter, Facebook, a personal website, or any other web medium.
How Does it Work?
All affiliate members are assigned their very own member identification number. When you post a link to any of our products, you will encode that link with your ID number. That way, we can track who comes to our site via your post. If that person then buys something from us during that visit on our site, you will receive 10% of the total amount that they spend.
Sign Me Up!
Alright! You're ready to start earning some store credit just by being awesome. Here's how:
1) Go to our new affiliate sign up page.
2) Fill in all of the appropriate fields, once that information is submitted you will be prompted to log in to your new affiliate account. However, you will not be able to utilize your new affiliate status until it is manually activated by a Hookah-Shisha employee. You will receive an email informing you of your account activation. If you have any inquiries about your account, please email hookahlove(at)hookah-shisha.com
3) Once your account has been activated, you can start generating links and earning credit! When you are logged in to your affiliate account, there will be a menu with the option 'generate links' on it. Click on that, and you will be taken to a page with a drop down menu.
-If the particular product that you are looking for is not on that drop down menu, that is not a problem at all! Simply go to the actual product page on our website and take a look at the URL.
-Let's say that you wanted to create a link for the Khalil Mammon Lotus Hookah, the URL looks like this: https://www.hookah-shisha.com/p-7763-khalil-mamoon-hookah-lotus-1-hose-hookah.html
-At the very end of that link, you will put: ?idaffiliate=
-Finally, right after the '=' you will put your affiliate ID number. So, if your affiliate ID number is 102, then the final link will look like this: https://www.hookah-shisha.com/p-7763-khalil-mamoon-hookah-lotus-1-hose-hookah.html?idaffiliate=102
-Email us at hookahlove@hookah-shisha.com and let us know that you signed up, we'll make sure you get verified ASAP!
4) Now that you've created the link to the product or page (this includes simply directing people to our main homepage) that you wanted, simply put that link on your social media platform or website, and you'll start earning credits in no time! You may want to let your friends know that you only get the credit if they make a purchase on our website on the same visit in which they were sent there from your link. In other words, if they leave the website, then come back and make a purchase later, there's no way that we can track that to give you credit (that's what the affiliate ID in the URL provides).
5) Once you've accrued store credit, and you're ready to spend it, your affiliate credits must be manually transferred to spendable reward points by a H-S employee. The best way to do that would be to click on the 'LiveChat' icon on the homepage of Hookah-Shisha.com (upper right corner), and ask a live associate to transfer those credits for you.
Please contact us if you have any questions, we're so happy to have you as a part of the Hookah-Shisha team!
Categories
Recent Post
Month Lists