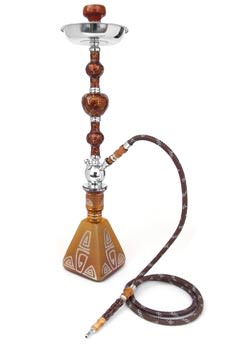 The Best Hookahs Under $200
By
Katie
/ August 22, 2014
What is the Best, Most Affordable Hookah?
This is probably the most common question that our customers ask our customer service team. There is no one right or wrong answer to this question, but we can definitely recommend our favorite hookahs priced under $200!



Mya Obelisk
The Mya Obelisk is hands down one of our most stunning hookahs available. You'll need to go with the one hose model to keep it under $200, but it is worth every dime. Standing at 30 inches tall and adorned with three pears on the stem, a stainless steel hub and complete with a wide and stable base; this hookah is sure to capture the envy of all your friends. The Obelisk is a must-have for hookah collectors and aficionados.



Nammor Cleopatra
The Nammor Cleopatra offers elegance without compromising subtlety; the hookah looks great from a distance, but upon closer examination you'll notice that every inch of this hookah has been detailed and beautified. There are faint flowers etched into the lower portion of the shaft, and the accenting gold trim is spread tastefully with perfection in mind.



Round Glass Saturn's Moon Hookah
The Round Glass Saturn's Moon is one of our less expensive all-glass hookahs, and the design on it actually looks like Saturn. It does have a female bowl stem, so you will need a male-male bowl adapter in order to use traditional bowls with this hookah, but those are only $19.99, bringing the total to $143.23, still under $150! If you are looking for an all-glass hookah that won't break the bank, this is a great place to start.



Mya Paragon
It's such a great value! Normally the Mya Paragon just over $150, but now on sale (through August 15, 2014), it's only $131.99. It's a sleek modern design and just the right size for a larger hookah at 33 inches tall. The wide brimmed base makes it extremely stable at that height. The shaft actually breaks down so that you can fit it into its handy carrying case. One of the best features is the flexibility. These hookahs are also able to be upgraded to multi-hose. They are also compatible with nearly every other hookah accessory - Vortex bowl, Nammor hose, Heba Diffuser, etc.



Khalil Mamoon Black Shareef
The Khalil Mamoon Shareef hookahs are some of the most sought after hookahs on the planet. The reason for this is because no other Egyptian style hookahs come with a black shaft. These are also made in silver and dark silver, although the dark silver is so popular that it is difficult to keep in stock! These visually captivating hookahs will smoke like an absolute dream, and there are so few of them in circulation that you are almost sure to be the only person on your block who owns it.
Categories
Recent Post
Month Lists