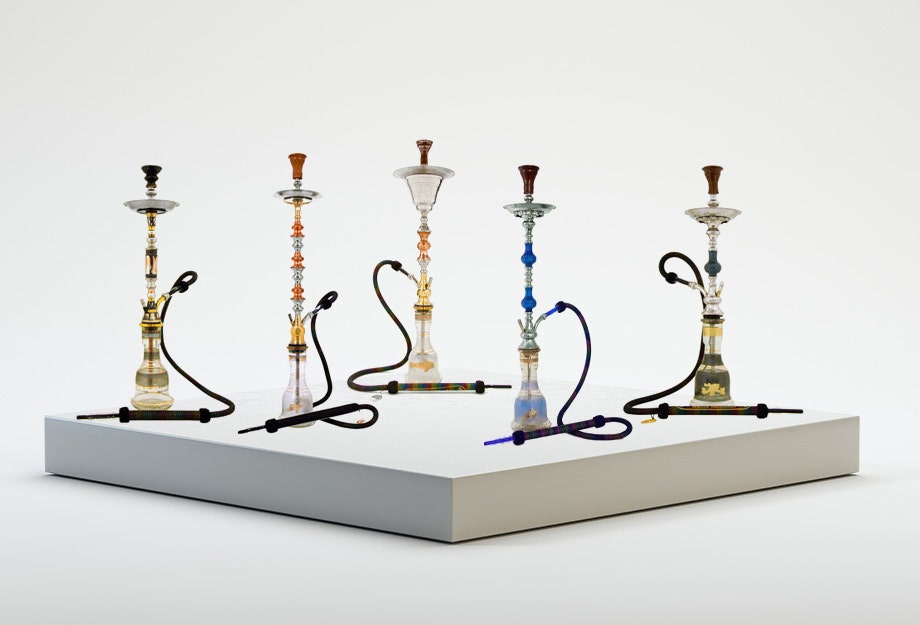 Best Khalil Mamoon Hookah - The Top 5 KM Hookahs List
Khalil Mamoon has been making some of the world's best hookah pipes for decades. Each hookah is handmade by trained craftsmen to ensure the best quality possible. Without further ado, here is our list of the top 5 KM hookah pipes (list updated February 2014).
1) Khalil Mamoon Pharonie Hookah
The KM Pharonie is available in two different styles, the original KM Pharonie, and the KM Oxidized Pharonie. These particular hookahs are coveted for their beautiful tri-metal stems, perfect size (both are 33 inches tall) and low price. Don't believe us, just listen to what our customers have to say - "I own 4 other hookahs and by far this is my favorite", "If you are debating on buying it don't, you won't regret it at all!", and "It's my first hookah and I don't think I could have made a better choice". The people have spoken and they love the Khalil Mamoon Pharonie Hookah!
| | |
| --- | --- |
| KM Oxidized Pharonie Hookah | KM Pharonie Hookah |
Watch this for a close up on the Pharonie details:
2) Khalil Mamoon Zoharia Hookah
The Zoharia Hookah line from Khalil Mamoon represents the best in design aesthetics and build quality. This is a hookah built to last which also looks amazing. We love it's height (33 inches) and think that this is one of the best looking hookahs in our online store. Our customers love it too, leaving feedback such as "The smoke clouds are huge and the pull is amazing", "It smokes like a monster and the beauty of this will catch anyone's eye", and "I absolutely LOVE this hookah!".
| | | |
| --- | --- | --- |
| KM Silver Zoharia | KM Zoharia Ice | KM Oxidized Zoharia |
3) Khalil Mamoon Trimetal Hookah
Khalil Mamoon Trimetals are the quintessential Egyptian hookah pipes. If you close your eyes and imagine a beautiful hookah, this is what you will see. These hookahs have been around for years in an industry where models disappear from production all of the time. This is a testament to their lasting appeal and durable construction. Don't take our word for it though, here's what our customers had to say - "picked one of these up about 2 years ago still amazing as the day I got it", "Overall a 10/10 in my book", and "simply the best hookah I've ever seen!!"
| | | |
| --- | --- | --- |
| KM Oxidized Trimetal | KM Trimetal Tall | KM Original Trimetal |
4) Khalil Mamoon Double Pear Short Hookah
If you are looking for a well made, good looking KM hookah at a great price, the Khalil Mamoon Double Pear Short is a great place to start. We have this bright and inviting hookah available in 5 different colors. Our customers rate this hookah highly for it's price and durability. Let's hear what they had to say - "Now that I have (a KM) I probably won't buy another brand of hookah", "I am very pleased with this hookah, and will likely be buying another one in the future", and "I really wasn't expecting such a great hookah, but to my surprise I was wrong".
| | | | | |
| --- | --- | --- | --- | --- |
| Black | Blue | Green | Red | Yellow |
5) Khalil Mamoon Single Pear Short Hookah
KM's classic "Pear" designs have always been popular amongst hookah afficianados. The Pears add a bit of color to an otherwise very simple design and they look great too. If you are looking for a slightly smaller hookah then the Single Pear's 31 inch height should suit you perfectly. Tall enough to be visually impressive, but still easy to clean and set up. Enough of what we think, here's what our customers have to say - "The craftsmanship and the detail work are outstanding ", "Perfect size if you want a bit of portability", and "Buy It - Without a doubt".
| | |
| --- | --- |
| KM Black Single Pear Short Hookah | KM Blue Single Pear Short Hookah |
Categories
Recent Post
Month Lists