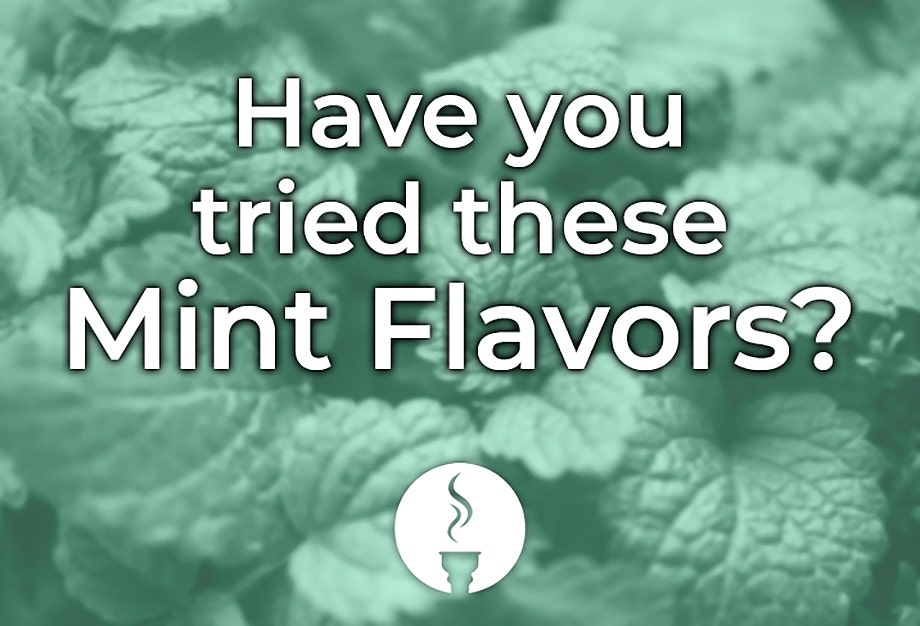 The Best Mint Hookah Flavors
By
smokeorpass
/ January 21, 2013
It seems as if there is always some sort of new mint shisha just around the corner every year. So much so that it can sort of be overwhelming as to where to start when it comes to choosing which one to smoke. Many of the mint shisha options out there today have been around for a good while and have become way more than familiar among us hookah smokers. You probably know that Cane Mint still reigns supreme on the leaderboards for top mint flavors and that Pure FML and Trifecta Twice the Ice are a couple of the coldest mint shisha flavors out there. Let's take a look at some of the other great mint options that you may not hear of so often but are just as great.
---
Zomo Strong Mint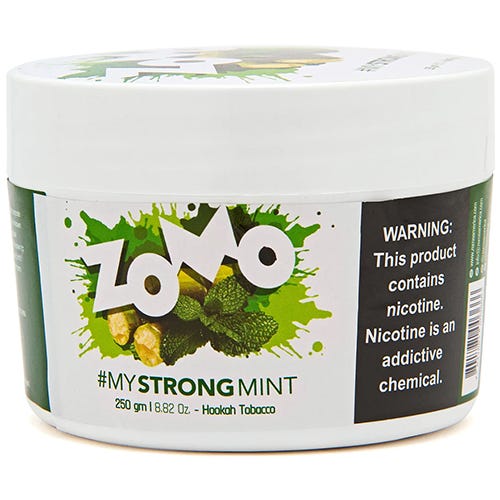 Zomo made a splash in the hookah market with their two collections of flavors: World Experience and Strong Line. While the World Experience flavors utilizes a blonde leaf cut of tobacco suited for beginner to veteran smokers alike, their Strong Line was crafted for a different style of smoker using dark leaf tobacco.

All of the Zomo Strong flavors have a touch of menthol for a cooling inhale and they're blended with a stronger cut of tobacco for a mature smoke preference. The Strong Mint flavor accurately displays sugarcane and mint leaves on the box, and a strong sweet mint is what you'll receive. The 50g boxes allow for an ease in creating new combinations and the mint is a great foundation that also puts on an excellent solo performance.
Azure Rio Mint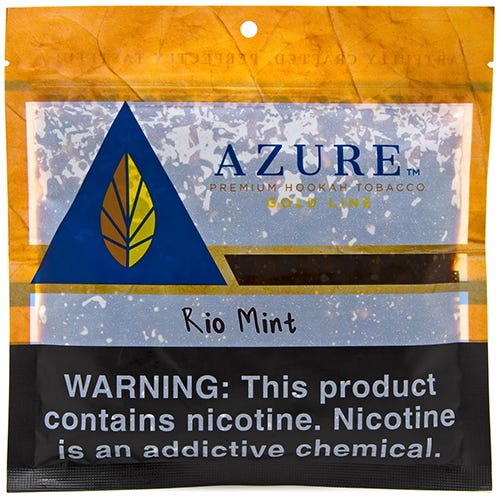 Available in both their Gold and Black lines, Azure came sprinting out of the gate with several flavors that immediately became shisha favorites. Azure Rio Mint was no different when it hit our shelves. This cold, peppermint flavor is just sweet enough to smoke on its own or as a cooler for any mix. The Gold line is their blonde version and is easy to use in a variety of different packing methods with any bowl. If you're looking for a little more earthy tones with a higher buzz check out Rio Mint in Azure's Black line which uses dark leaf tobacco.
Trifecta Mediterranean Mint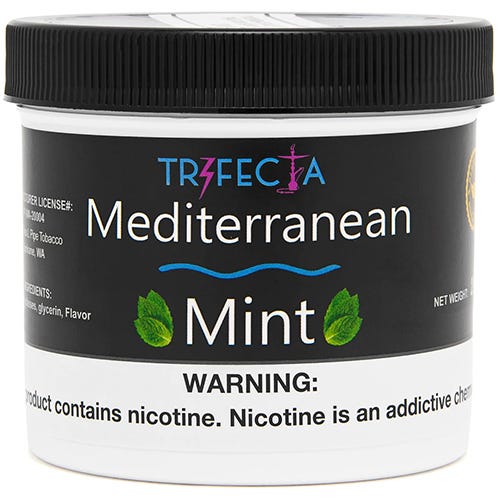 Trifecta has a solid line up of mint flavors in both blonde and dark leaf options like their famous Twice the Ice and Peppermint Shake as well as many mint mixes. They also have some straight-up clean mint choices as well and Mediterranean Mint is one to try! Mediterranean Mint is a blonde leaf tobacco making it a simple shisha to use solo or as a mixer. It's a pretty straight forward spearmint leaf flavor that we've come to love. If you're looking for a dark leaf option from Trifecta check out their Hipster Mint for an earthy, "regular" mint leaf taste.
Al Waha Gum Mint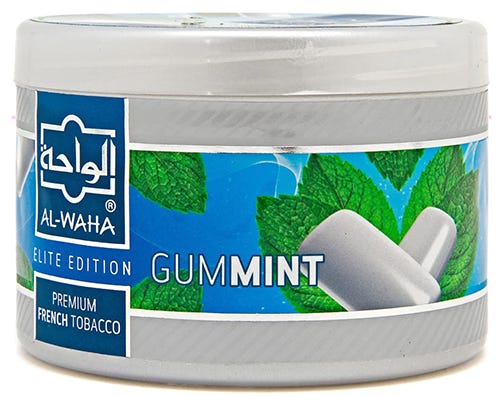 Simple but definitely not boring, Al Waha Gum Mint is a sweet spearmint flavor in the blonde leaf tobacco category. Al Waha has been around for a very long time (it was the first shisha I stuck with when I started smoking hookah) and their Gum Mint has become a popular mint favorite for many. Because of its sweetness, Gum Mint is very pleasant to smoke by itself for a refreshing bowl.
Othmani Marrakech Mint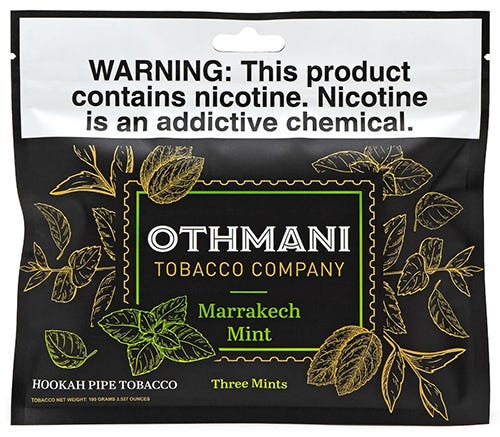 Coming from the same team that created the high-buzz Nirvana and Eclipse shisha lines, Othmani tobacco has a high standard when it comes to quality tobacco. Don't be intimidated though because Othmani is their lower nicotine line of shisha tobacco making it a great option for all smokers. Othmani Marrakech Mint is a blonde leaf tobacco shisha that combines a clean, simple mint with the sweeter notes or a spearmint leaf flavor. We like this one in a bowl by itself but we really enjoy it as a mint kick with most flavors.
---
Classics to Not Forget About!
---
Social Smoke Absolute Zero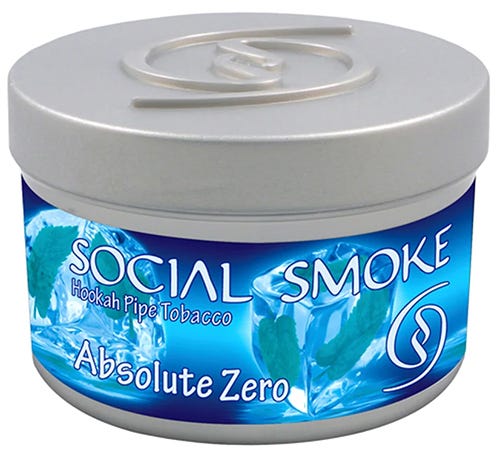 You know this one. If not where have you been? It is by far one of the most popular Social Smoke flavors and has been for a very long time. Social Smoke Absolute Zero is icy and it is peppermint with the most delicious sweetness. Talk about mint flavors to smoke on their own…this is definitely in the top three for most hookah smokers. As one of the leaders in shisha tobacco, Social Smoke is made from high-grade blonde leaf tobacco and doesn't use any artificial colors or dyes. They deliver just solid flavor which is why they continue to be a top brand.
Starbuzz Mint Colossus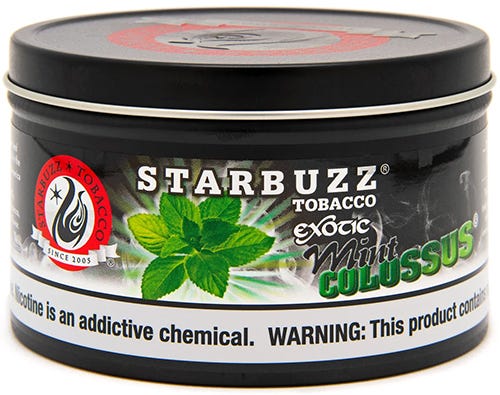 Before the mint shisha tobacco craze went totally off the chain, Starbuzz Bold had Mint Colossus. As one of the early, extra cold mints this blonde leaf flavor will put massive clouds in the room that taste like the perfect blend of mellow mint and wintergreen. Starbuzz also does not use any dyes, only premium level tobacco and flavoring.
Al Fakher Gum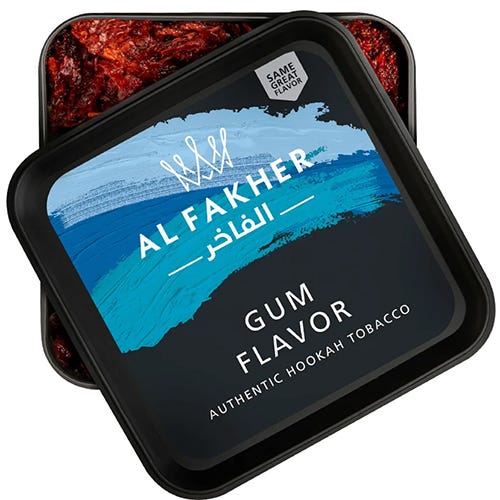 They have several of the most sought after flavors and have been a brand we have stood behind for decades. Al Fakher shisha tobacco also has many mint options that have grown over the years including Al Fakher Gum. This flavor is straight up spearmint but just sweet enough to taste like a piece of spearmint gum. Just like their classic Mint, Al Fakher Gum will always bring on a robust flavor throughout your smoking session. Guess what, these two are so good by themselves individually, they also made a mix called Al Fakher Gum Mint which combines both!
---
Are Those All of the Mint Flavors?

Not. Even. Close. This is just a reminder that there are other fantastic mint options out there, and the classics are still available along with a wide variety of other options. There are probably more to come in the future as well! What is the newest mint you have tried this year?
Categories
Month List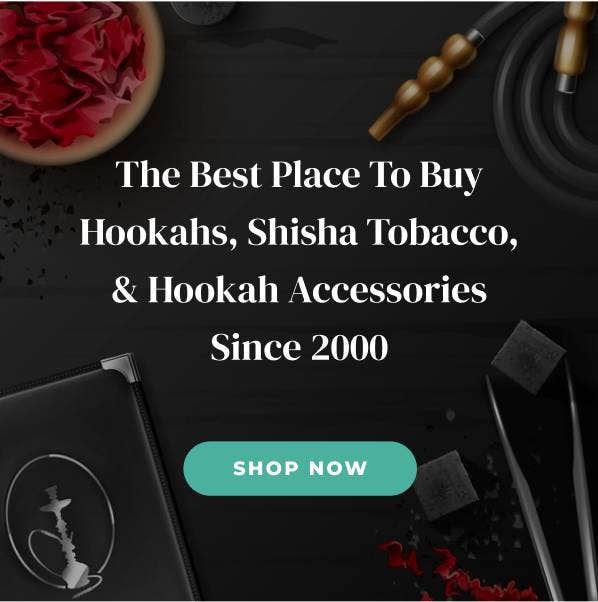 Shop All Hookahs, Shisha Tobacco, Charcoal, Bowls