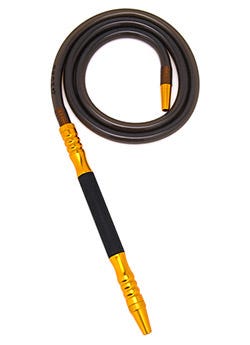 Best New Hookah Products of 2015
By
Danny
/ December 24, 2015
(This post has been updated as of 12/4/2018)
Welcome to the year-end installment of our annual 'Best New Products of the Year' list. This edition will cover all of the best new products to the hookah world that have been released in 2015. If you think we missed anything awesome, let us know in the comments. Enjoy!
D Hose 2.0 Hybrid
The D Hose (short for Dream Hose) is still one of the most popular hoses on the market, and the Aluminum D Hose made our Spring edition of this list. The newest member of the Dream hose family is the excellent D Hose Hybrid 2.0. The signature wide-gauge medical tubing hose remains the same as ever, but the 2.0 hybrid version features an extremely comfortable aluminum handle with a rubberized grib in the middle. Great airflow, feels amazing in the hand, and won't ghost flavors. This might just be the perfect hose.
Shika V4 Hookahs
For years, Khalil Mamoon has been the undisputed king of the Egyptian hookah world, but recently some new players in the game have emerged with amazingly detailed and high quality new designs. Shika may be the best of the bunch. Their new line of V4 hookahs are meticulously designed for amazing performance and beauty. From the copper downstems, to the brass shaft, to the hand engraving, to the amazing accessories that come standard with these pipes - you just won't find too many hookahs that match Shika in terms of quality and price. These are limited in supply so pick up one of the many models in our store today.
Starbuzz Wireless E-Head
We've seen a lot of companies try to create a great vaping experience with a hookah, but none come close to the new Starbuzz Wireless E-Head. This heavy duty vape bowl has every feature you could ever want and it's built like a tank so you know it will last you a long time. This bowl automatically starts when you inhale, has a digital display which shows a puff counter, battery life, and wattage, and the digital display also has touch sensitive controls that allow you to customize your vaping session. And the best part is that you can use any e-juice you want! We recommend 3mg nicotine level juices for the most hookah-like sessions.
Wookah Hookahs
In 2015 we saw a myriad of new hookah designs on the market that focused heavily not only on functionality, but also beautiful design. One of our favorites were the new wooden Wookah hookahs from Poland. These gorgeous hookahs features simple, elegant wooden stems and some of the highest quality crystal bases we've ever seen. A Wookah hookah will smoke as well, or better, than almost any hookah in the world while also causing all of your hookah smoking friends to proclaim "What hookah is that and where can I get one"? Tell them to head over to Hookah-Shisha to pick one up!
Starbuzz Vintage Shisha
The most hyped up product release of the year was probably Starbuzz's new Vintage line of shisha tobacco. The Vintage line is Starbuzz's first foray into the world of black leaf tobacco blends. Black leaf tobacco is a richer, fuller tobacco with more flavor and more nicotine. The new flavors have been flying off of the shelves and people are raving about the unique flavor profiles and the versatility of the shisha. You can pack it anyway you want - fluff pack, semi-dense pack, or even a dense pack - and it's really hard to burn so you can throw on an extra coal for those big clouds with no problems. We love it and should have all flavors fully restocked in January.
Mya Silicone Hose
When we first received the Mya Silicone Hose I don't think any of us thought that it would end up on a year end best-of list but after spending some time with it, we fell in love. If you are familiar with the aluminum D-Hose, then you have a pretty good idea of what the Mya Silicone hose is all about. It smokes very similarly and features a similar design. What we really love about the Mya Silicone hose is the design of the handle, and the price. The handle feels so good in your hand and has a perfect weight to it. On top of that, it's just $21.99 so it's a very affordable and high quality hose that we recommend everyone checks out.
Social Smoke Pear Chill
Social Smoke has had a resurgence in 2015, producing lots of great new flavors which are both unique and incredibly tasty. Our favorite of the new batch is Pear Chill. Our very own Youtube superstar SMOKEorPASS has deemed this one of his "kilo flavors" and we have to agree. (You can pick up a kilo of Pear Chill here). The sweet and delicate blend of pear and mint is so refreshing when smoked on its own, but it's a great mixer as well. We can't recommend it any more highly. This is a flavor that you've gotta check out.
Fumari Limoncello
Fumari is one of the most popular brands in the world and their newest flavor, Limoncello, has absolutely blown up since its release this year. The second you open this package you will be hit in the face with the most delicious and enticing lemon aroma. We dare you to smell this flavor and then not want to immediately load a bowl. Smoked on it's own, this flavor is a great sweet lemon flavor, but it really shines when it is used as a mixer. Mix a bit with your next bowl and see what the hype is all about.
Dschinni Hookahs
Dschinni is a very popular brand of hookah from Germany that has just made it's way to our site in 2015. Dschinni pipes are gorgeous and feature high quality components all around. From the excellent bases to the intricate stems and the fantastic hardware, each of their models will smoke great and look even better. We especially love the visual appeal of the Dark Baba hookah (pictured above) which looks like the hookah that Batman would smoke, if Batman smoked hookah. Check them out and see what all they hype is about.
Oduman Hookahs
Our final pick for the best of 2015 is yet another hookah that is new to the US market but well known in Europe, Oduman Hookahs. Oduman hookahs feature high quality glass, aluminum, and silicone components to create a pure, clean flavor that allows you to experience shisha the way it was intended. If you are a fan of the Art hookahs, we recommend giving Oduman a look as they provide very similar designs at a highly competitive price point.
Categories
Recent Post
Month Lists