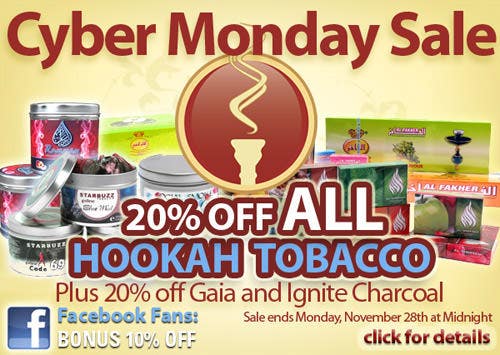 Black Friday Sale 2011 - 20% off all Hookah Tobacco and More!
By
Grabertrain
/ November 25, 2011
Edit 11/29/11: The 2011 Black Friday/Cyber Monday Sale has come to a close. Check back for more holiday specials soon! Thanks to all of our supporters, and Happy Smoking!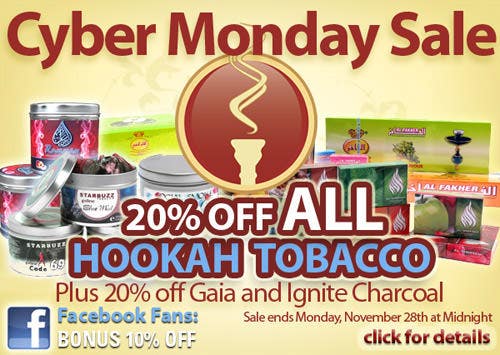 Howdy Hookah Friends! It's the beginning of the holiday season which means it's time for our annual Black Friday Sale, and you know there's no waiting in lines or fighting crowds to shop at this store! For the next 4 days we're taking 20% off ALL brands of Hookah Tobacco! And yes, this includes tobacco and charcoal Super Packs! From Al Amir to Zaghoul and everything in between, starting now and ending on Monday, November 28th at Midnight Central Time, every brand of hookah tobacco is 20% off the listed price - plus some additional savings on our signature hookah coals and a special hookah package! Hooray!
Facebook Fans: Take 10% off of all other (non-sale) items in our store!
Fans of ours on Facebook - get a coupon code to take 10% off all other non-sale items in our store! All you have to do to get this coupon code is head over to our Facebook page (click the button below) and hit the "like" button. If you're already a fan of ours on Facebook, the coupon code will already be visible! Every item that isn't marked down from the list price is eligible for this discount. This coupon code expires at the same time as the Black Friday Sale (Monday, November 28th at Midnight) so don't delay! Mystique Old School Nammor Hookah - The "Ultimate Cloud Machine" is 40% off!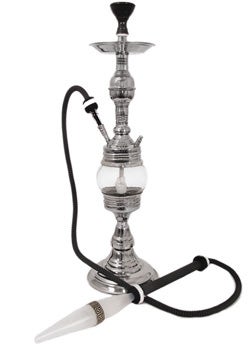 Look no further for the ultimate in hookah-smoking perfection! We've assembled the smoothest, coolest, and most awesome smoking hookah possible, and it can be yours for 40% off the list price! A Nammor Old School Hookah (complete with Nammor Hookah Hose and a Heba Diffuser), with a black Vortex Bowl and a Mystique Ice Hose Tip! This special hookah package will only be available during the Black Friday weekend, so pick one up while it lasts!
20% off Gaia and Ignite Hookah Charcoal!
| | |
| --- | --- |
| Gaia coals are a natural hookah charcoal made of compressed coconut shell that burns long, produces very little ash, and is the end result of our quest to produce the cleanest smoking natural hookah charcoal available. Give this 16-piece box a try for 20% off during Black Friday, or use a coupon code to get a box for free! | |
| | |
| --- | --- |
| | If quick-light coals are more your style then we've got you covered as well! Ignite coals are convenient, long-lasting and odorless, and available in 2 different sizes (33mm and 40mm) to fit any sized hookah bowl. Pick up a single roll (10 pieces), half box (50 pieces), full box (100 pieces) or a Super Pack of 3 boxes (300 pieces) at 20% off for Black Friday! |
The 2011 Black Friday Sale lasts for only 4 days and will end at Midnight on Monday, November 28th. As always, Happy Holidays and Happy Smoking!
Categories
Recent Post
Month Lists