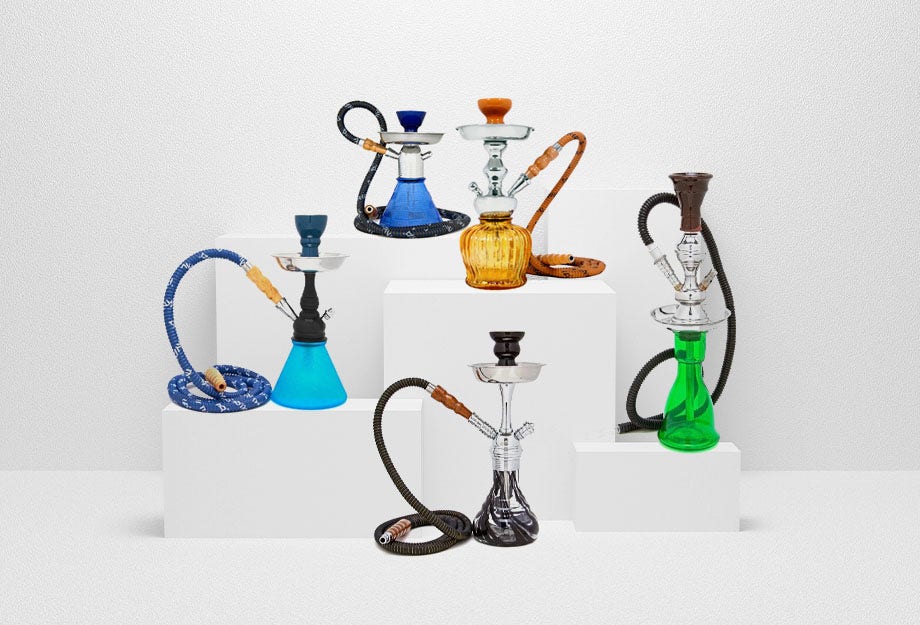 The Best Cheap Hookahs Under $50
This post was updated on 03/15/2019
Today more than ever, we all want to save a few bucks where we can. That doesn't mean you have to sacrifice a quality hookah with thick smoke and great flavor that will last. As always, you get what you pay for, but what you don't want is to get a cheap hookah that falls apart, doesn't fit together, or is too small to actually use. Here is a list of the best hookahs under $50 that will last, produce thick smoke, and help you save money.
Mya Petite Hookah - $28.99
The Mya Petite is pretty much the deal of the century. Not only is it the cheapest hookah on this list, it has the most positive reviews (128 total reviews, 100% of them positive), and it smokes fantastically well. Perfect for people who want a small, portable hookah for travel, or for someone who wants to try out hookah without breaking the bank, the Mya Petite will not disappoint.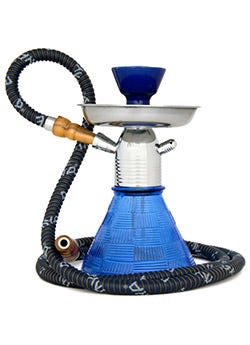 Egyptian Furat Hookah - $34.99
The Furat hookah is an awesome choice for a traditional Egyptian style hookah that is compact enough to take with you on the go. Standing 16" tall when fully assembled this little cloud machine is composed of a stainless steel traditional Egyptian style stem, including a wide gauge hose adapter and downstem making for excellent air flow, along with a colored glass base, Egyptian clay bowl, and a 46" washable hose. This is an awesome desktop hookah but is also an excellent choice for hookah smokers looking for an easy hookah session on the beach!
View All Egyptian Furat Hookah Options
Mya Chikita Hookah - $34.99
The Mya Chikita is very similar in design to its' little brother the Mya Petite, but is slightly taller at a total height of 12" and features a matte black stem along with a unique bubbled glass glass in multiple color options. Due to the extra height of the Chikita this is also a great option for converting it to a 2 hose hookah by adding an additional Mya hose adapter.
View All Mya Chikita Hookah Options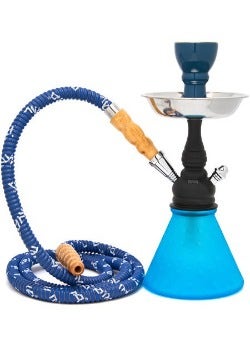 Econo Mya QT Hookah - $42.99
The Econo Mya QT Hookah is a more affordable version of the uber popular Mya QT Hookah (which at $52.99 just missed out on this list) that is available in 7 awesome colors and comes with a handy carrying cage. The Mya Econo line is perfect for budget conscious smokers who still want a high quality hookah pipe. We recommend thoroughly cleaning and drying your Econo QT after use as the downstem is prone to oxidation and mineral buildup if stored wet.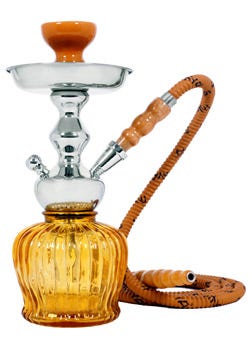 Pharaoh's Saghir Hookah - $44.99
Coming in at just over 13" this sweet little table top hookah from the Pharaoh's hookah line uses an interlocking stem to base connection meaning that you won't need to worry about using a base grommet to connect your stem to the base. Speaking of bases, the Saghir is available in a variety of very cool and unique swirled base color options and this is also a great choice for converting to a 2 hose options by adding an additional Pharaoh's Autoseal Hose Adapter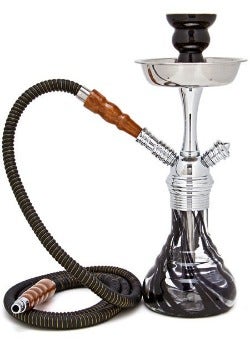 View All Pharaoh's Saghir Hookah Options
Categories
Recent Post
Month Lists