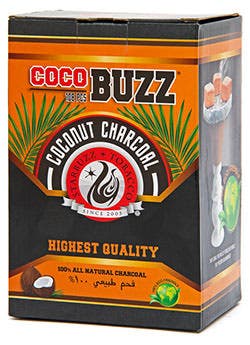 Coco Buzz Hookah Coals - Starbuzz Throws Their Hat into the Coconut Coal Ring!
By
Grabertrain
/ June 26, 2012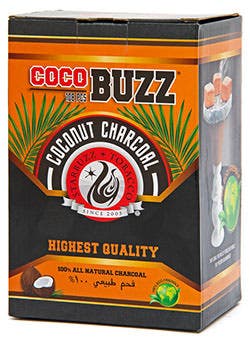 If you're a fan of
Stabuzz Hookah Tobacco
, or coconut hookah coals in general, then we invite you to give these coals a try. Made from compressed coconut shells instead of wood or compressed coal dust, these odorless coals last up to 1.5 hours each and fare just as good, if not better, than other coconut coals on the market in terms of longevity and ash production.
Available in a 108-piece box which will last up to 50 hookah bowls (depending on the size of your bowl and type of tobacco), these coals are roughly the same shape and size as the "flat" Coco Nara coals and are easily lit in mere minutes on a stove top or single coil charcoal heater. Don't forget about 3 Box Super Packs and 5 Box Monster Packs, if you're the type who buys in bulk for extra savings. Happy Smoking!

Want even more heat and longevity? Check out the new Coco Buzz 2.0 Coconut Charcoal. These coals are significantly larger than the standard size Coco Buzz coals, resulting in the need for fewer coals during your session. (These coals will last around 2 hours; so, 1/2-hour more than the standard sized coals). Perfect for extra large hookah bowls!
Want to save some money? Make sure to use these coupon codes:
-Spend $75 or more, get a Free Coco Buzz 108-Piece Box: COCOBUZZ75 -Spend $75 or more, get a Free Coco Buzz 2.0 72-Piece Box: COCOBUZZ275
Categories
Recent Post
Month Lists