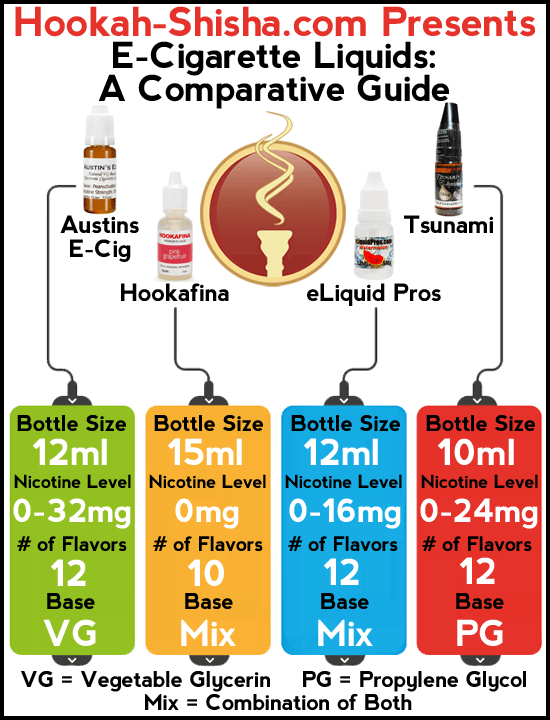 E-Cigarette eLiquid Refills - A Comprehensive Guide
Everything You Need To Know About E-Liquid
As the e-cigarette craze continues to grow, so does the availability of e-cigarette liquids to choose from. We thought it would be good to take a moment to break down the differences between each brand and offer some helpful insights, which you can use when making your next electronic cigarette liquid purchase! Check out our growing line of rechargeable eCigs as well!
E-Liquid Brand Comparison
It can be a daunting task trying to choose which e cigarette liquid is right for you. Some brands are nicotine free or with varying levels of nicotine. In order to help you make the most informed choice, we have created this handy little comparison chart to lay out a few of our most popular brands:
| | | | |
| --- | --- | --- | --- |
| Austin's E-Cig Liquid | Hookafina E-Liquid | eLiquid Pros Liquid | Tsunami E-Liquid |
Here are our other eLiquid flavors, with all of the specs you need to know about each brand!




Smooth E-Liquid (also available in 30ml bottles)



Starbuzz E-Liquid (also available in 30ml bottles)




If you have any more specific questions about our e-cigarette liquid refill options, please contact our customer service department via phone (866-466-5247), email, or livechat.
Categories
Recent Post
Month Lists