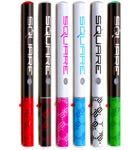 E-Hookahs: Everything you need to know about Hookah Pens
By
Katie
/ February 22, 2013
Close your eyes and come with me on a journey of hookah smoking scenarios:
It's the middle of the night and you're really craving a hookah session, but your roommate fell asleep on the couch. What do you do?
You're parents are in town and they think that your hookah is a prop from a Cheech and Chong film. What do you do?
It's 1,400 miles between here and Tuscaloosa and your girlfriend says it's 'dangerous' to set up a hookah in the car. What do you do?!
Never fear! The E-Hookah is here!
The hookah world didn't want to be out shined by the E-Cigarette world, so they pulled some of the yummiest shisha flavors and packaged them into convenient little travel tubes! No coal, no mess, no instruction needed.
**Each brand has its own level of nicotine. Ranging from 18mg to Nicotine-Free. Pick which one is right for you!**
| | |
| --- | --- |
| | Square E-Hookah – 18mg nicotine. However, the 'White' flavor is Nicotine-Free. This model has an activation button. |
| | |
| --- | --- |
| | Fantasia Diamond E-Hookah – Get your favorite Fantasia flavors in a handy pocket-sized form. All Fantasia E-Hookahs are nicotine-free and are designed to last longer than other e-hookah brands. |
| | |
| --- | --- |
| | Tsunami E-Hookah - We have 10 different flavors, and each one has a different level of nicotine, ranging from 6mg-16mg. This model has NO activation button. |
| | |
| --- | --- |
| | Starbuzz E-Hookah– Available with 12mg nicotine or without nicotine. This model has an activation button. |
Categories
Recent Post
Month Lists