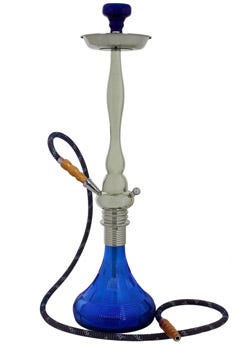 Econo Mya Hookah - Get Astra-nomically Huge Smoke Clouds from the Econo Mya Astra Hookah!
By
Grabertrain
/ May 30, 2012
Astra
is a name with many associations: A comic book character, a bygone automobile, a weapon of the Hindu gods, and now...a hookah? A hookah! The
Econo Mya Astra Hookah
is the newest model of meticulously machine-crafted hookahs from the Econo line from Mya Saray. Featuring a sultry silver stem that screws into the bulbous glass base (no base grommet needed!), this 27 inch tall pipe is available in a single and double hose version (smoke with a friend!) and has 7 different colors of glass base to choose from. You bet your Astra this is a mighty fine hookah! Speaking of Mya Hookahs, our latest restocking saw the return of one of the most elusive pieces to ever grace our shelves: the
Mya Threepio Hookah
. You'll never "have a bad feeling about this" hookah being out of stock anymore! A companion to the
Mya Artoo Hookah
, this all gold pipe features an acrylic base and is available in up to 4 hoses.
Happy Smoking!
Relevant Posts:
Econo Mya QT Hookah – Same QT Taste, More "Economy" Puns
Categories
Recent Post
Month Lists