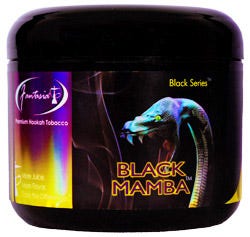 Fantasia Hookah Tobacco - 3 New Fire-Breathing, Hell-Raising, Serpentine Flavors!
By
Grabertrain
/ June 7, 2012
Ever the trend setters in the hookah world, the folks from Fantasia Hookah Tobacco have released 3 of the most anticipated new flavors we've seen in many moons!
| | |
| --- | --- |
| | Black Mamba: Named after the longest venomous snake in Africa, this fierce flavor has fangs! Just like the eponymous serpentine predator, this tropical flavor will sneak up on you with its piercing piquancy and will leave you in a palatable paradise. |
| | |
| --- | --- |
| Magic Dragon: A mythical, monstrously intense blueberry flavor with a refreshingly minty undertone. I'm going to avoid referencing a certain Peter, Paul and Mary song when describing this flavor, but Magic Dragon produces the puffiest smoke clouds ever seen outside of Skyrim. | |
| | |
| --- | --- |
| | Diablo: Have a glass of water nearby, because this devilishly decadent flavor is red hot! Fantasia Diablo is a buxom burst of sensual cinnamon that would make Mephistopheles himself melt in a flavorgasmic saturnalia. |
These 3 new flavors are currently available in the 200g size and the 1 kilogram size, with 50g sizes available in the near future. Happy Smoking!
Related Posts:
Categories
Recent Post
Month Lists