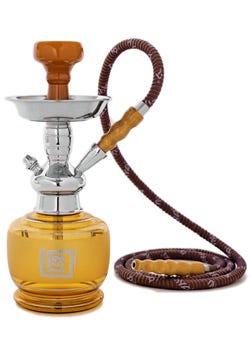 Featured Hookah Pipe - Mya Chic (1 Hose) Hookah
By
Danny
/ August 22, 2011
As one of the newer employees here at Hookah-Shisha.com I have spent the last few months on the job acquiring a massive amount of information about hookahs, shisha tobacco, coals and every possible hookah accessory you could think of. Today I had to put all of that knowledge to the test. Today was the day I got my first hookah.
When people ask me what hookah they should buy, I never make a suggestion until I have asked them a couple of questions first. What type of smoker are you? Do you smoke every day? Do you often smoke alone or in a group? Do you want a single hose model, or a multi hose model? Are you looking for a showpiece hookah, or something that you will keep in your closet only to be brought out occasionally? Once I've gotten answers to these questions, I feel like I can make a recommendation that will be perfect for that particular customer. Although I help people make hookah buying decisions many times a day, I had never spent much time thinking about what my perfect hookah would be. When choosing my own first hookah, I asked myself these same questions. I am not a daily smoker, so one of the things I was looking for was an easy and secure way to store my hookah when it was not being used. I immediately started looking at hookahs that come with cases. I also plan on bringing my hookah with me to parties, trips, camping, etc. so the case had to be sturdy enough to make those trips with me. I wasn't interested in a big multi hose model for my first hookah, though I may opt for one down the line, so I decided on a single hose model. When I was done answering all of my own questions, I had narrowed my search down to a
Small Mya Saray Hookah
with a sturdy carrying case. All that was left was to pick the model that was most visually appealing to me.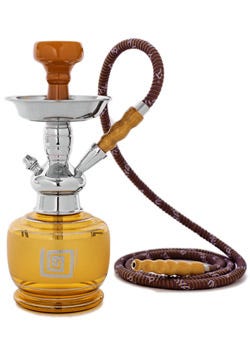 In the end, I chose the
Mya Chic Hookah
with a black glass base. It's small enough to be easily stored and comes with a great carrying case. It's a single hose model, but can be upgraded to a
2 hose model
in the future if I feel inclined to do so. Finally, and most importantly, I like the way it looks and I know that I will love it for a long time. If you're looking for your own first hookah, or even your tenth hookah, I recommend doing as I did and asking yourself a couple of questions about what type of smoker you are before making your purchase. I'm sure you'll find that after doing so you will end up with the perfect hookah for you.
Categories
Recent Post
Month Lists