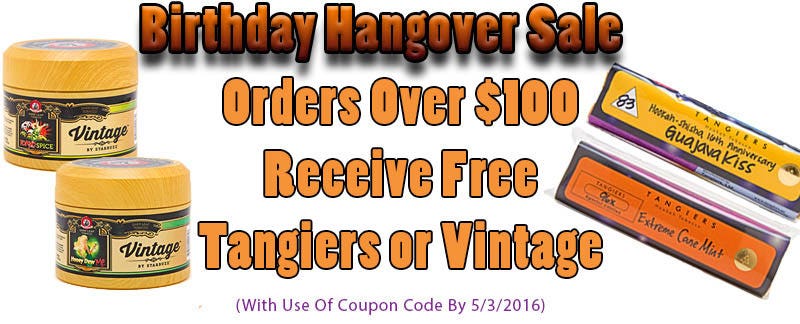 The Birthday Hangover Sale- The Party Never Stops
By
Danny
/ February 17, 2016
We had a blast celebrating our birthday all last week! Thank you to everyone for kind words and well wishes! But now we're suffering from a little hangover after some hard partying, and we don't feel like changing all the prices right now. So we will leave some hookahs and accessories on sale until 5/3/2016, and we brought back some of your favorite codes.
From now through Tuesday, May 3rd, 2016 (or when supplies run out) you can get a free 200g of any Starbuzz Vintage flavor, a free 250g bag of the hard-to-find Tangiers Extreme Cane Mint (also known as Cane Mint X) or you can pick up our exclusive birthday Tangiers flavor - Guajava Kiss - with any order over $100! Just use any of the codes at the bottom of this page.
What's Still On Sale? Glass Hookahs like the Q-mod 7 and many other glass hookah options can be found right here in our clearance hookah section. Egyptian made hookahs like this Sharjarah have been reduced from $89.99 to $69.99, with many styles to choose from in the Egyptian Hookahs section. We'll continue to offer combo deals on our website like the Black on Black Starbuzz Enterprise Hookah, as well as many other Hookahs.
Hookah Accessories The Nammor Hookah Hoses can still be picked up for a steal during this sale, along with many other hoses in our Hookah Hose section. The heavy duty Alpaca bowls like the Symphony can be found in our Hookah Bowl category, with staff favorites like the Shika Oblivion bowl.
How-to Use Free Shisha Codes
How does it work? It's very simple. Just fill your cart with $100+ worth of awesome hookahs, shisha, and accessories and then use one of the coupon codes below at checkout. The shisha flavor of your choice will automatically be added to your cart and a matching discount applied to your order. That's it!
Tangiers Extreme Cane Mint (while supplies last!)

Use the code freecanemintx at checkout
Tangiers Guajava Kiss - 16th Birthday Flavor Use the code bdayshisha at checkout
Free Starbuzz Vintage Shisha
Free 200g of Starbuzz Vintage Colombian Spice - Code: freecolombianspice
Free 200g of Starbuzz Vintage Dark Caribbean - Code: freedarkcaribbean
Free 200g of Starbuzz Vintage Dark Mist - Code: freedarkmist
Free 200g of Starbuzz Vintage Dark Vanilla - Code: freedarkvanilla
Free 200g of Starbuzz Vintage Delhi Tea - Code: freedelhitea
Free 200g of Starbuzz Vintage Fresh Lime - Code: freefreshlime
Free 200g of Starbuzz Vintage Ginkco - Code: freeginkco
Free 200g of Starbuzz Vintage Honey Dew Me - Code: freehoneydewme
Free 200g of Starbuzz Vintage Morning Breeze - Code: freemorningbreeze
Free 200g of Starbuzz Vintage Indian Spiced Apple - Code: freespicedapple
Free 200g of Starbuzz Vintage Orange Chocolate - Code: freeorangechoco
Free 200g of Starbuzz Vintage Peach Spice - Code: freepeachspice
Free 200g of Starbuzz Vintage Shanghai Passion - Code: freeshanghaipassion
Free 200g of Starbuzz Vintage Spice Me Red - Code: freespicemered
Free 200g of Starbuzz Vintage Spiced Apple - Code: freespicedapple
Free 200g of Starbuzz Vintage Sweet Cigar - Code: freesweetcigar
Free 200g of Starbuzz Vintage Tiramisu - Code: freetiramisu
Free 200g of Starbuzz Vintage Tokyo Spice - Code: freetokyospice
Free 200g of Starbuzz Vintage White Mist - Code: freewhitemist
Categories
Recent Post
Month Lists