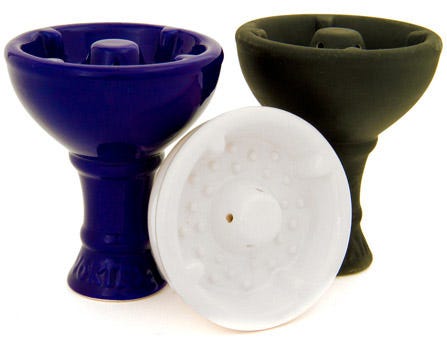 Goliath Vortex Hookah Bowl: Biggest Hookah Bowl at Hookah-Shisha.com
By
Admin
/ January 22, 2013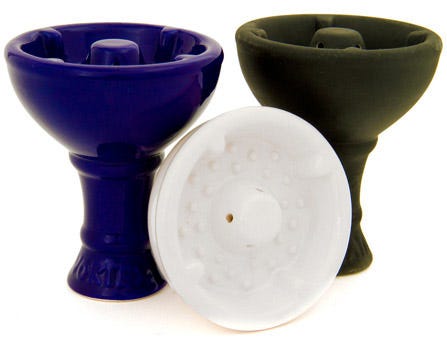 Ah yes, the Vortex Hookah Bowl, arguably the most popular hookah bowl in our store. Look at those beauties in the picture above; looks like a slightly modified version of the original Vortex Bowl, right?

Not so fast, Frodo. Let's take a look at a size comparison between the new Goliath Vortex Bowl and a Regular Vortex Bowl:
Top View

Goliath Regular

Side View

Goliath Regular
Now that's a spicy meatball.
Grommets: "This bowl can't possibly sit sturdy on my stem" you may be saying. This is the one and only tricky part of getting this brobdingnagian bowl to sit flush. The bottom opening is slightly wider than the regularly-sized Vortex Bowl, so it may take some Tim-the-Tool-Man-Taylor tinkering for a taut and tidy fit. You can use the tried-and-true Paper Towel Trick, or do what we did: After some experimentation in the shisha lab we discovered that the best bowl grommet combination is 1 Mod Bowl Grommet and 3 Mya Bowl Grommets. We even made a demonstration video for you all to enjoy:
What you didn't see is that the smoking session lasted another 45 minutes after we finished filming, which means the bowl lasted over 4.5 HOURS. You can watch the entire Extended Edition of The Lord of the Rings: The Return of the King while smoking your hookah and not have to reload the bowl. How's that for a sweet-ass shisha sesh? To other hookah bowls that don't last nearly as long I say this to you: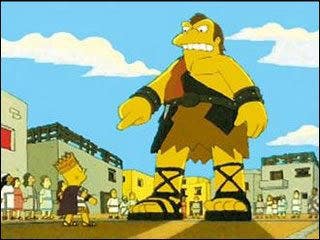 "ha ha!"
Categories
Recent Post
Month Lists