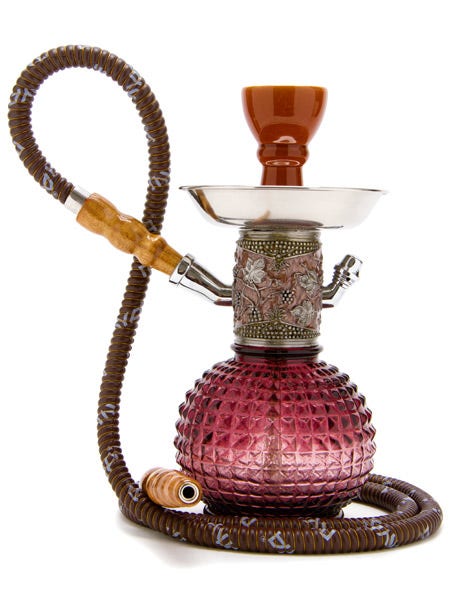 Heba Diffuser Guide For All Hookahs - What Diffuser Will Fit?
This is actually a more difficult question to answer than you might think. Each hookah base has a different neck diameter, each stem has a different end piece. It's easier to break this question down by brand. So let's take a look at Mya hookahs, Egyptians, Nammors, and Khalil Mamoons. Hopefully we'll cover your hookah in the process!
Small/Econo Mya Hookah Diffuser EXCEPTIONS

Most Small Mya Hookahs and Econo Mya Hookahs have rubber grommets at the base-stem connection point. However, some of these hookahs are 'threaded', which means that the stem screws on to the base. These bases have a wider mouth, therefore they can *usually* fit a MEDIUM Heba Diffuser.
Smoke Diffusers That Fit Large Mya Hookahs

This is where it can get tricky. *Some* large Mya Hookah bases can accomodate large Heba Diffusers and/or Pharaoh Diffusers due to their wider necks, however this is not true of ALL large Mya hookah bases. The medium Heba Diffuser will fit these bases *in most cases*. Once again, if you want to play it safe, ROI Beads are a safe bet.
| | |
| --- | --- |
| | Heba Diffusers are the most popular and widely-used hookah smoke diffusers on the market. We carry them in two sizes: medium and large. The large Heba Diffusers are the hardest to fit onto a hookah. They generally only fit on standard large Egyptian hookahs that do not have a nut on the bottom of the stem (these do not fit on Nammor or Khalil Mamoon hookah stems) |
| | | |
| --- | --- | --- |
| | | The Pharaoh hookah diffuser is adjustable so that you can either use the more narrow topper to fit a smaller stem, or the wider topper to fit a larger hookah stem. The larger attachment will allow this diffuser to work on most Khalil Mamoon and Nammor hookahs. |
| | |
| --- | --- |
| | If you want to take the guess work out of fitting a diffuser onto your hookah stem and ensuring that it fits in your hookah base opening, then just grab some ROI Hookah Beads. Place one teaspoon of these expandable beads into the water of your hookah base, and you have instant diffusion as well a gorgeous and colorful addition to your hookah session. We have also recently added the Art Hookah Diffuser Beads to the mix! |
Categories
Recent Post
Month Lists