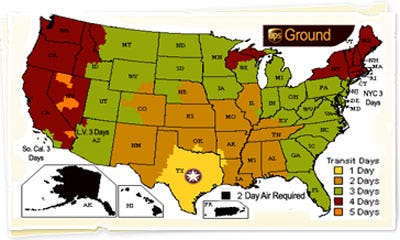 Holiday Shipping Schedule 2012
By
Katie
/ December 10, 2012
Howdy Hookah Friends! We at Hookah-shisha.com want to make sure that when you place an order that's intended as a holiday gift, it gets to you on time. Here is this year's holiday shipping schedule for domestic orders (shipping to the contiguous 48 United States) so you can accurately time your delivery:

UPS Ground Orders:

Please refer to the UPS ground map below for the shipping times, which are based on your geographic distance from Austin, TX. Since UPS Ground orders ship out within 1-2 business days, and because UPS does not deliver on weekends, any UPS Ground orders placed after Friday, December 14th need to be timed accordingly based on your location. Please note that the day a package ships out does not count as a shipping day.

Please note that while UPS is consistently accurate with the shipping time frames below, UPS Ground delivery times are not guaranteed. An increase in package volume as well as unforeseen circumstances such as bad road conditions or other natural disasters may delay a Ground order. Only air packages (UPS 3 day, 2 day, and Next day) provide guaranteed delivery dates. If you are concerned about the timing of your order, we encourage you to select a faster shipping method.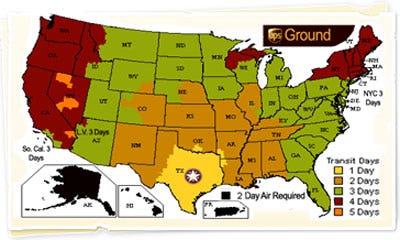 UPS 3 Day Orders: Orders shipped via UPS 3 day need to be placed on or before Tuesday, December 18th to arrive by the 24th.
UPS 2 Day Orders need to be placed on or before Wednesday, December 19th to arrive by the 24th.
UPS Next Day Orders need to be placed on or before Thursday, December 20th to arrive by the 24th.
UPS will be closed on December 25th and will resume deliveries and pickups starting on Wednesday, December 26th.
Please contact us with any specific questions regarding shipping times. Have a Happy Holidays, and of course Happy Smoking!
Categories
Recent Post
Month Lists