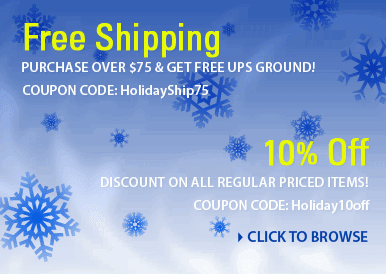 Holiday Hookah and Shisha Promo 2010!
By
Jono
/ December 9, 2010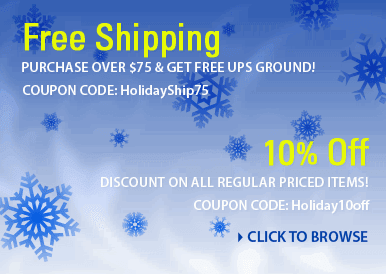 Howdy Hookah Friends! 'Tis the season for Hookah and Shisha! We hope everyone has safe and happy holidays this year, and to help we're having 2 holiday promotions that will hopefully make things a little merrier!
Domestic customers (orders shipping to the contiguous 48 United States) can use the coupon code HolidayShip75 to get free UPS Ground Shipping on purchases over $75!
Or
If you don't qualify for free shipping, you can use the coupon code Holiday10off to get 10% off of all non-sale items in our store (no minimum purchase required!)
Since these coupon codes are not combinable, be sure to use the one that is the most advantageous for you! These promotions will expire at the end of the day on
December 24th, 2010.
Need some holiday gift ideas? Here's Jono to give you his "Twelve days of Shisha" Happy Smoking!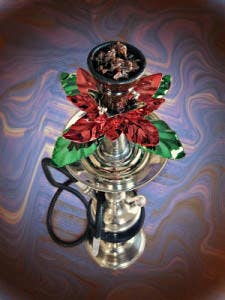 It's that time of year again when families and friends come together to celebrate the holidays. Most people have images of snow covered yards, amazing home cooked meals, gathering around the fire cooking some s'mores, football games, and many other festive traditions dancing in their heads. Maybe even a little Frosty the Snowman playing on the stereo just loud enough to cover Uncle Jesse's snore fest. And it wouldn't be the holidays without all the moms around the world breaking out EVERY candle in the house to fill the air with "cheer".
Look around, the holidays have arrived! It's time to stock up on your favorite holiday shisha tobacco flavors! Let's count down the twelve days of SHISHA with our top 12 Holiday shisha flavors! (according to yours truly!)
#12
Romman Chocolate Mint
- There is absolutely NO BETTER WAY to kickoff the hookah festivities than with this popular shisha flavor from Romman! Everyone loves the smell of chocolate and everyone loves the taste of chocolate mint. WIN. WIN!
#11
Social Smoke Caramel Apple
- Sweet, creamy, delicious caramel apple! Mmm Mmm.
#10
Romman Turkish Coffee
/
Starbuzz Vanilla
/
Al Tawareg Coconut MIX
- This is one of my favorite all time mixes and it just so happens to go perfectly with the holiday season. Smoke this one around the fire while you nibble on your smores. #
9
Social Smoke Clove
- Just before you break out the cinnamon stick candles, get your spicy shisha fix on!
#8
Al Tawareg Flowery Rose
- You'll wanna smoke this holiday shisha flavor before Grandma gets there. Once she arrives, I'm willing to bet you'll have plenty of "rosey" smells in the air.
#7
Starbuzz Peaches & Cream
- This has been a staple amongst my friends during the holidays. You'll wanna do some baking afterward! Don't thank me, thank Starbuzz!
#6
Fantasia Caramel Frappuccino
- The weather outside is frightful, but the caramel frappuccino is so delightful! This one's great after a long day of shoveling snow and/or putting up with the in-laws.
#5
Al Tawareg Orange Cream
- Trust me. It's the perfect segue-way between Fantasia Caramel Frappuccino and Romman Apple Cinnamon. AND it's ridiculously good!
#4
Romman Apple Cinnamon
- Mix up some warm apple cider and indulge in one of the best holiday shishas ever! This one hits the spot!
#3
Fantasia Gingerbread
- Gingerbread houses. Candy M&Ms all over the floor. It's time for a little Fantasia Gingerbread.
#2
Starbuzz Pumpkin Pie
- Flawless veteran. This one is a true champion. Warm up by the fire, light that Warm Sugar Cookie candle, and enjoy Starbuzz Pumpkin Pie holiday shisha tobacco!
#1
Starbuzz Christmas Mix
- The "no-brainer". You're sleep deprived, stuffed with food, and ready for a little peace and quiet. You deserve the best of the best. Holiday Shisha doesn't get any better than this! I promise this year's festivities will be your life's most memorable if you make it a Hookah Holiday! Now go get your hookah fired up, and enjoy the rest of your holiday break! Take that long deserved nap too! Happy Holiday Smoking!
Categories
Recent Post
Month Lists