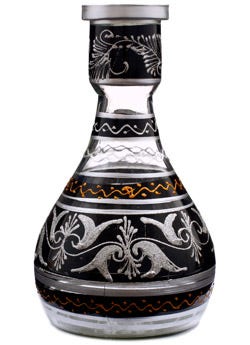 Hookah Glass Bases - New Fancy Syrian Hookah Bases!
By
Grabertrain
/ February 14, 2012
Add a little "bling" to an otherwise drab hookah! These hand-painted
Fancy Syrian Hookah Bases
make a great replacement for a broken base or simply to make your current hookah stand out in a crowd. The Fancy Syrian Hookah Bases come in 3 different shapes - a "
Balloon
" shape, which is more bulbous and resembles and upside-down balloon, an "
Dish
" shape with is more flat at the bottom, and a "
Pear
" shape. These Bases have an opening at the top that is smaller than the average base (about
1.1
to
1.2
inches), so be sure to measure the part of your hookah stem that fits into the base. Using a traditional black rubber
hookah base grommet
on your hookah stem may be too thick to fit, so we recommend using one or more
Mya Rubber Band Base Grommets
for a snug fit. You can even wrap electrical tape around the stem (like we do in
this post
). Happy Smoking!
Categories
Recent Post
Month Lists