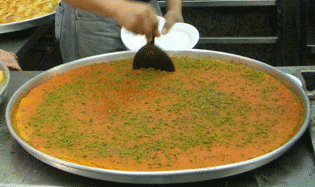 Hookah Lounge / Bar experience in New York City - ILLEGAL? Or Herbal Hookah?
By
Hookah Saheer
/ April 1, 2008
I love visiting New York. I don't think I could ever live there for too long, but it is an experience to visit. The thing I love the most about NY is how its ethnic communities so closely resemble the environments of their origins.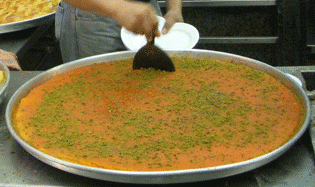 Steinway street in Astoria is a good example. I wanted some good Kanafa, a famous Arabic desert, and was directed to a great place on Steinway. As I walked down the street, I could smell the hookahs from two blocks away. It was awesome! As I would walk by the hookah lounges, I was giddy for the first time (in a long time) by the immense amount of smoke billowing out of these hookah coffee shops. I would soon learn the clouds of smoke it was produced from the traditional method of smoking and coal use. The vast majority of shops were all decorated in a traditional Egyptian manner and were filled with patrons sucking down hookahs, eating arabic food, sipping tea and playing cards. The occasional backgammon game or plate of food being served as well. It was like walking into downtown Egypt all over again. During the next few days I visited a total of 3, although there were probably about 10 hookah venues on Steinway street alone. The ones I visited were Eastern Nights, Layali Beirut and Melody. Although I enjoyed the pleasant atmosphere oft was a nice mix between all of them (and I will be posting reviews on all of them), but I would have to say that Melody was my favorite. Honestly, none of them had their hookahs up to par for my standards. All of these hookah lounges were filled with older hookahs, most had tons of charcoal loaded on their hookahs (although they thankfully used Natural Hookah charcoal which is my favorite) but the best hookah smoke was from the ones serving Al-Fakher, which I still consider a sub-par tobacco brand. The others used Nakhla.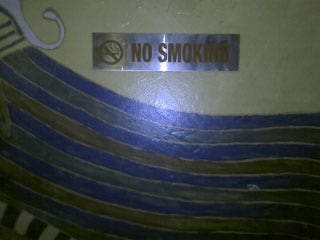 I thought that smoking hookah indoors was illegal in NY. It is! And they actually have "No Smoking" signs in all of the hookah lounges. So how do these hookah lounges exist? By using herbal shisha. Herbal Shisha is a type of shisha that uses all herbal blend vs. tobacco leaves. It tastes different and is typically much less quality of a smoke than hookah tobacco. But it is great for those no-smoking cities like NY. Now, are they really using herbal shisha. Although I can't say that all of the lounges in NY aren't using herbal shisha, but I can safely say that some NY hookah lounges are using regular tobacco shisha. Can herbal shisha be as good as hookah tobacco in the future? Yes! With proper development, herbal shisha should be able to taste just like regular shisha. Is herbal shisha as good as hookah tobacco right now? Noooo... not when customers reporst flavors such as "pencil shaving" and "wood" So, to kick off my reviews of NY Hookah Lounges, I will start with the Melody Hookah Lounge, the best I visited in NYC. It has delectable food, well maintained hookahs (although the shisha served was the 'ketchup flavored' Grape Al-Fakher that some may have heard of), and homey, comfortable ambiance. Here is a pic of the hookah I ennjoyed: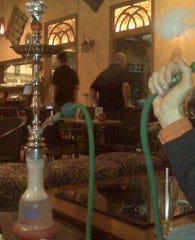 As well as the tea kettle we used (it has a fun little guy padding as the handle).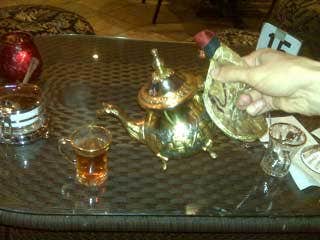 Will I go again? Yes, because the food was amazing. For areas of improvement, I'd like to see them offer better hookah flavors. Full reviews for the 4 hookah lounges I visited in NY will soon follow.
Categories
Recent Post
Month Lists