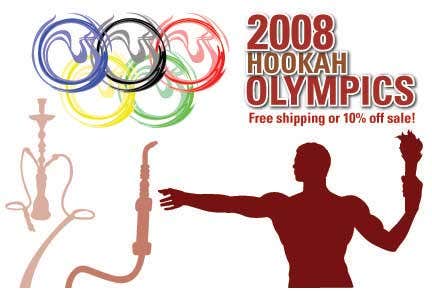 Hookah Olympics!
By
Admin
/ August 8, 2008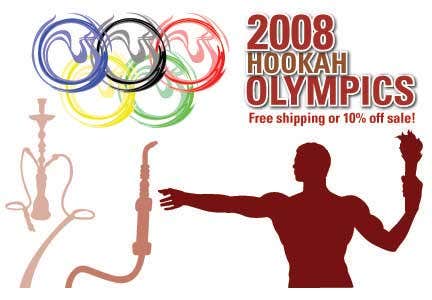 8/25/08 ~ It was a great competition and there were some very creative entries. We thank all the contestants for their participation. Keep checking back as we'll be posting any updates to this contest here on this page.
Make sure to check out all the
Hookah Olympics
submissions; the contestants put in some hard work making these videos.
------------------------------------------------------------------------------
Hookah-Shisha.com Hookah Olympics!
Howdy Hookah fans! This Friday marks the opening ceremonies of the 2008 Beijing Olympics. Couldn't get a ticket? Didn't quite qualify for the 200 meter backstroke you've been training for all summer? Fret not, for you have a chance to go for the gold while enjoying some summer hookah smoking!
We've created our own Hookah Olympic Games that you can participate in. Though the criteria for earning the gold, silver or bronze is slightly different than you'd expect: we're looking for creativity, originality, and fun. The best part is that you get to create your own events! Contest Rules: Make a video of you, your friends, your enemies, or anyone else that wants to participate, doing hookah related events. We'll get into what kind of events in a minute, and there are only two rules that you need to follow: The first rule is that you need to post your video on YouTube with the title of the video listed as "Hookah Olympics - "Event Name"" where "event name" is whatever you decide to name your event. The second rule is that you need to include the following link in the first sentence of the description of your post: /hookahlove/290-hookah-olympics.html Lastly, we ask that you please email us with the link to your post so we can embed it in our blog to keep all the competitors abreast of the competition. All submissions must be posted on YouTube by the end of the day Saturday, August 23rd. We will announce winners on Sunday, August 24th.
So, what kind of events are there? We've thought up a couple ideas that might help get your creative juices flowing, but the sky's the limit. You can create any event you like, provided you offer a brief description of the event and any particular rules you've created for it so the average viewer will know what they're looking at. Bowl Loading: This is an event of quickness and skill. Who can load their bowl the fastest, while properly installing the foil with nicely poked holes. Bonus points for neatness. Hookah Relay Race: Race your friends around a course using your hookah as the baton while stopping for a puff at each exchange. We suggest using a Leila hookah or an Ultimate Combo Bowl to avoid coal burns. (Bonus points for smoking while running!) Synchronized Smoking: A great way to express your inner artist. At least 2 people moving and smoking in synchronicity. Bonus points for style and hilarity points for incorporating any aspect of Rhythmic Gymnastics (you know you want to use one of those twirly ribbon things, right?!) Smoke-Ring Sharpshooter: An event of skill and focus, pick a target and blow smoke rings at it. Whomever hits the mark the most consistently wins! Bonus points for style. There are countless other ideas we know you can come up with. Create your own event and post it up for the world to see.
Prizes and Awards:
Each video submitted will be scored on a scale of 1-5. Our expert judges will examine your video and give it a score. All entrants will earn $5 in Hookah-Shisha Reward Points for each point they score. Maximum $25 in credit for each video with a limit of 4 videos per person. We will also award a Gold, Silver and Bronze medal for the top three overall videos. Gold will receive $100 in store credit plus a free Hookah T-Shirt. Silver will receive $50 in store credit plus a free Hookah T-Shirt. Bronze will receive $25 in store credit plus a free Hookah T-Shirt. Store credit paid to Gold, Silver and Bronze winners will be in addition to credit paid for initial entry score.
Special Promotions during the Olympic Games!
From now until the closing ceremonies on August 24th, take advantage of either FREE UPS ground shipping (order minimum $40) or 10% off your entire order! Please use the following coupon codes during the checkout process: "Olympic 10" - this coupon code will take 10% off of your order. There is no minimum to buy! (make sure you press the "apply discount" button before you press the final checkout button!) "Olympic Ship" - this coupon code will give free UPS ground shipping for our domestic customers for orders over $40. (make sure that you select UPS ground as your selected shipping method, and don't forget to press the "apply discount" button before you press the final checkout button!) Sorry, the 2 coupon codes cannot be combined.
And now for some of our videos:
Hookah Olympics - Hookah All Around
Hookah Olympics - Bubble Blowing
Hookah Olympics - Hookah Marathon
Categories
Recent Post
Month Lists