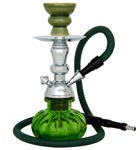 Hookah on a Budget? 5 Hookahs for Under $25
By
Grabertrain
/ July 18, 2012
Let's face it, not everyone has the scratch to enjoy their own hookah at home, especially in this wintry economic climate. Luckily we have a few options for those wanting a cheap hookah that functions just as well as their larger counterparts!

Averaging only 10-11 inches tall, the below mini hookahs smoke surprisingly well despite their modest size, as many of the reviews will tell you. While these may not break any records when it comes to epically long smoking sessions, the below hookahs are great for beginners, are easy to assemble and prepare, and make great travel hookahs due to their compact size. Remember, all five of these hookahs come with 100g of free shisha tobacco and free hookah coals, as well as hookah foil and tongs, so everything you need to use them is all-inclusive (you'll of course have to supply your own water and means to light the charcoal!).
| | |
| --- | --- |
| | Pumpkin Hookah - Hands down the most popular mini hookah on our site. So named because of the shape of the base, the Pumpkin hookah continues to bring in "better than I expected!" reviews. Many seasoned hookah pros, including many of our employees, list this little guy as their first hookah and have quite fond memories of it. Replacement bases are also available for it as well! |
| | |
| --- | --- |
| "Disco" Pumpkin Hookah - As the "disco" version of the pumpkin hookah above, this black colored mini hookah has an LED light in the stem which when turned on emits a colorful glow. The batteries are pre-installed so no need to purchase them separately. Bring this wee lad to a party and attract curiosity, or let it light up your darkened room while you puff away! | |
| | |
| --- | --- |
| | Mini Pagoda Hookah - With a slightly larger glass base than the aforementioned pumpkin hookahs, this mini hookah is so named due the stem resembling the tiered towers found throughout Asia (or a beehive, but we thought that the "beehive hookah" didn't have quite the ring to it). |
| | |
| --- | --- |
| Mini Sweet Hookah - This mini hookah is unique in that it has a metal stand at the bottom, which means the glass base never touches the table thus making it less prone to accidental breakages. The base is also globe-shaped, another unique feature not found on any modern hookah in our store. "SWEET!" is what you'll say once this little dude arrives at your door! | |
| | |
| --- | --- |
| | Mini Me Hookah - Lastly, I shall call him…Mini Me. The newest mini hookah to hit our shelves, this one is "one-eighth the size" of an Egyptian hookah and has a glass base in the shape of an Egyptian bell-style base. It only costs ONE MILLION DOLLARS! Nah, it's actually only $21.99, which makes it the most affordable hookah in our store! |
Happy Smoking!
Categories
Recent Post
Month Lists