 Hookah Set-up Instructions and Troubleshooting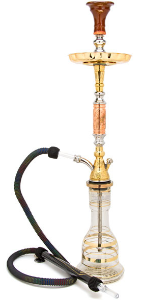 Traditional Hookah Setup Tutorial

Learn to assemble your very own hookah with the help of our Hookah Setup Tutorial video. Our video will give you a better understanding of all the moving parts within the hookah and how to adjust it for the perfect session.
Egyptian/Traditional Hookah Set-Up Instructions
Related Troubleshooting Guides:
It's too restricted/tight when I inhale, how do I add more airflow?
My flavor doesn't taste right, when should I change my hose?
How do I clean inside my glass base?
My Hookah hose keeps falling out of the hose adapter, how do I get it to stay in?
Related Troubleshooting Guides:
How do I add a 2nd hose adapter to my 1 hose Small Mya Hookah?
Categories
Recent Post
Month Lists