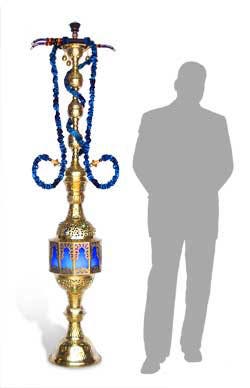 Hookah-Shisha 60 Second Video Review Contest!
By
Chuck
/ April 13, 2012
Howdy hookah friends! We thought we would do something a little different and have a contest that allows you a chance to win the ultimate hookah package. This contest is going to be a bit different than previous contests, as the winner will be chosen completely at random from all contest entries. To enter the contest, you just need to post a video review on our site between now and May 7th, 2012. There are a few rules, however: 1) You may review any product on our site, no need to focus on just shisha or just hookahs. All of our products have the option to add video reviews, so go nuts! 2) Your video review can be no longer than 60 seconds, including the intro and outro. This is important - the idea is to provide quick but helpful reviews so that people can watch them in a hurry and move on with their day. Any video reviews over 60 seconds will not be posted on the website and will not be considered entries for this contest. 3) All video reviews must contain the "official" Hookah-Shisha.com intro and outro provided below. 4) When posting your review on YouTube, entries should mention "Hookah-Shisha.com 60 second video review" in the description. This is kind of important, as we want to make it easier for people to find all these reviews in the future. You must post a link to the review on the page of the product you're reviewing on our website. 5) Each 60 second video review earns the reviewer an entry in the drawing, so please feel free to post more than one review. 6) Reviews in languages other than English are welcome. Hookah enthusiasts speak all languages, so feel free to use your native tongue. 7) You must be over the age of 18 to enter. 8) Most of all, have fun with this contest! We reserve the right to award extra entries for video reviews that are awesome in some way.
CLICK HERE TO DOWNLOAD THE OFFICIAL HOOKAH-SHISHA VIDEO INTRO AND OUTRO
What do you win for all this hard work, you might ask? Well, I hope you are sitting down, 'cause we dug up the last of our
Sultan hookahs
and will be shipping it to one
VERY
lucky video reviewer. The Sultan Hookah towers over you at nearly 7 feet tall and is guaranteed to make you the coolest hookah smoker in your town. This is very possibly the last Sultan hookah that we will ever have, so it is a very special prize. Unfortunately we are unable to ship the Sultan to locations outside of the United States due to its size, but if one of our international reviewers wins the contest, we will find you an awesome prize, I promise.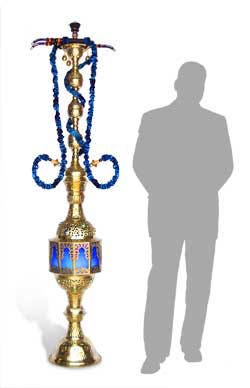 This could be you standing next to your new sultan hookah!
Categories
Recent Post
Month Lists