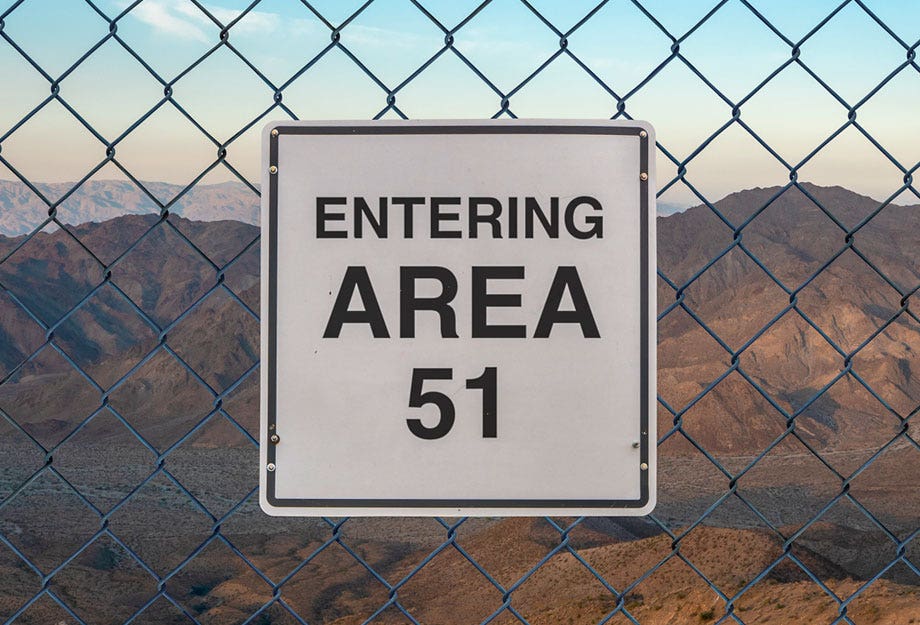 The Gang Goes To Area 51
By
SmokeOrPass
/ September 20, 2019
Yes, we're that crazy! A month ago, in the peak of summer heat, we took a trip to Las Vegas for a hookah convention and we had a little extra free time.
How do you kill 10 hrs of time before a plane flight in Vegas? Drive 2 hours to Rachel, Nevada to see Area 51 and beat the rush of the raid.
What's Rachel, NV?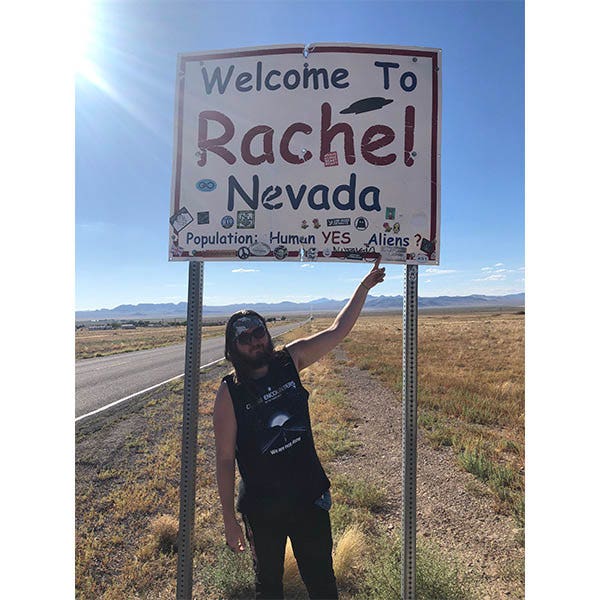 Rachel is a town with less than 90 people that call it home and very few establishments; we didn't even see a gas station.
We drove a long dusty road that basically connects from Vegas to right outside Rachel, and then our GPS had us take one final left turn putting us on the Extraterrestrial Highway.
The sign for this road was covered with stickers and there were a few picnic tables around, so we paused to stretch and snap a photo.
The Alien Research Center
Cruising the Extraterrestrial Highway at "warp speed" (that was the posted speed limit), we encountered a sheet metal hanger with a massive alien outside. We finally felt like we made it somewhere in this empty town.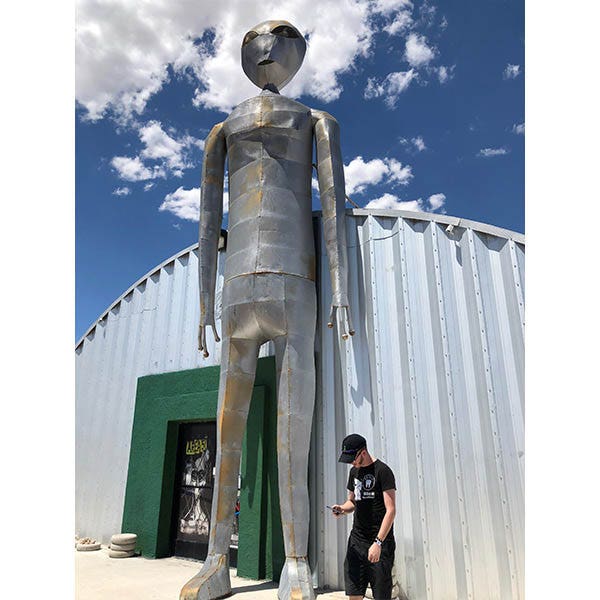 This building is known as the Alien Research Center and it serves as the gift shop for Area 51. We spent a good hour inside trying to figure out how many magnets, mugs, and other random gifts to buy.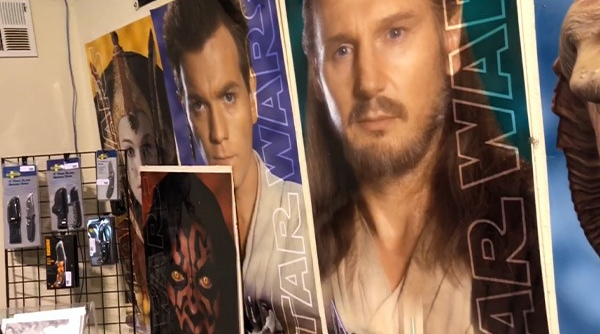 The store was oddly split 50/50 with Area 51 merchandise and Star Wars Episode 1 merchandise. I need to make this point clear: it was only Episode 1 and nothing else. We're talking original packaging like the movie was just released; shirts, pins, cups, everything.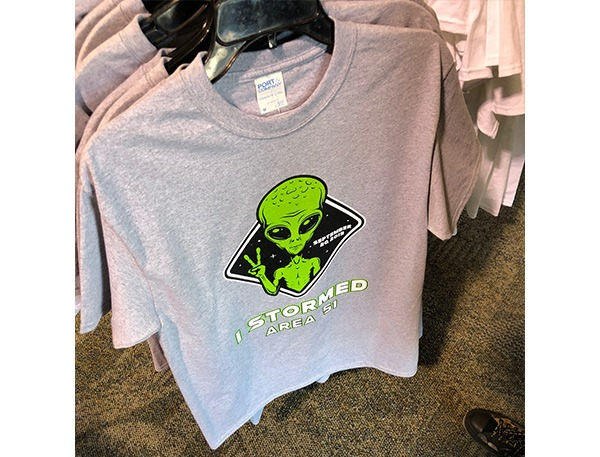 The shop was getting ready for the potential visitors that may make the trip. Based on the amount of these shirts I can see how they got stuck with the excess amount of Star Wars memorabilia, as there is not a lot of foot traffic.
The Little Alien Inn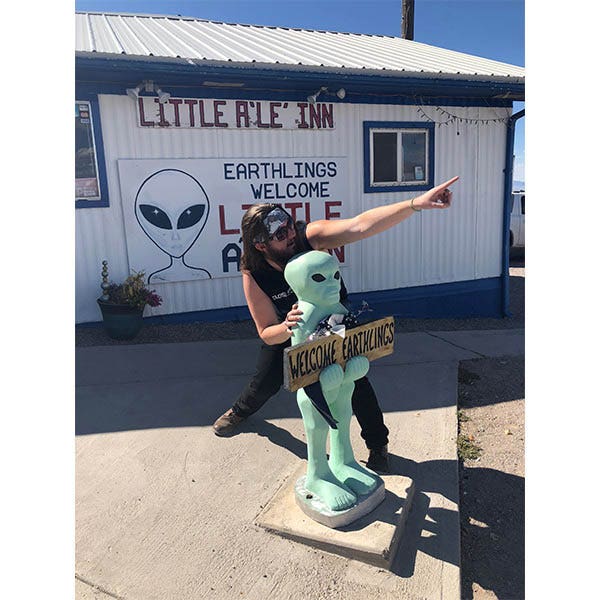 We pulled ourselves out of the Y2K flashback and got back in the car to hit the road as we continued into Rachel. In this empty town the phrase "right up the street" only speaks to the direction you're going and not the time it takes.
We went up the road another 30 minutes to the biggest attraction in the city besides Area 51; a motel/restaurant/museum called "Little A'Le'Inn". This would be the spot to fix our hunger and guide us in the right direction to the gate.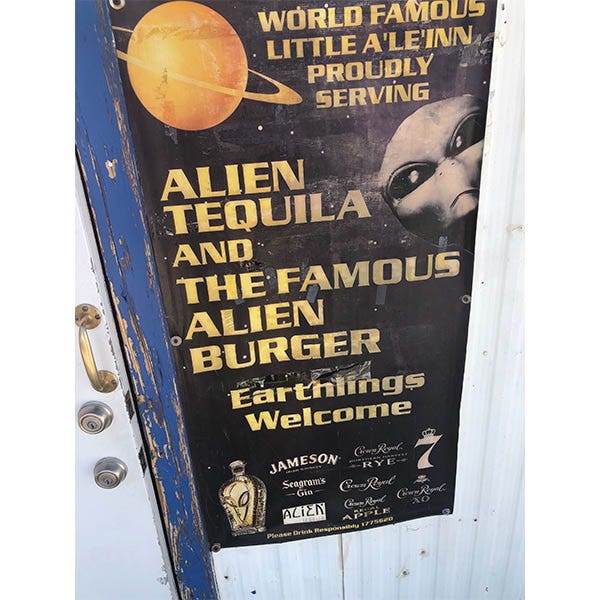 We started things off with a photo shoot and then it was time to eat. The menu was limited to about 3 types of burgers; plain, with cheese, or with cheese and veggies. So we ordered a couple "flying saucer" burgers and took a moment to observe our surroundings.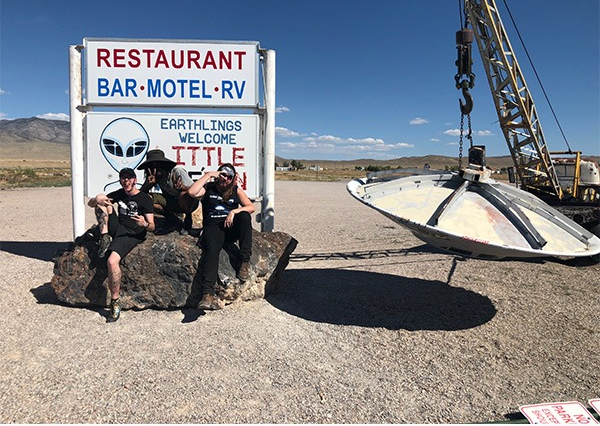 Then boom, ALIENS! This establishment has a few signs and one of them said no photography. The walls in this place were covered in Polaroids sent from people around the world living normal lives. These normal lives featured UFOS, strange anomalies, and bizarre markings in the backgrounds of each pic.
These photos have locations & dates and I believe everyone of these pictures, as I'm someone that spends a lot of time in photoshop. Especially the old fisherman photos of guys holding fish with multiple UFOS in the background.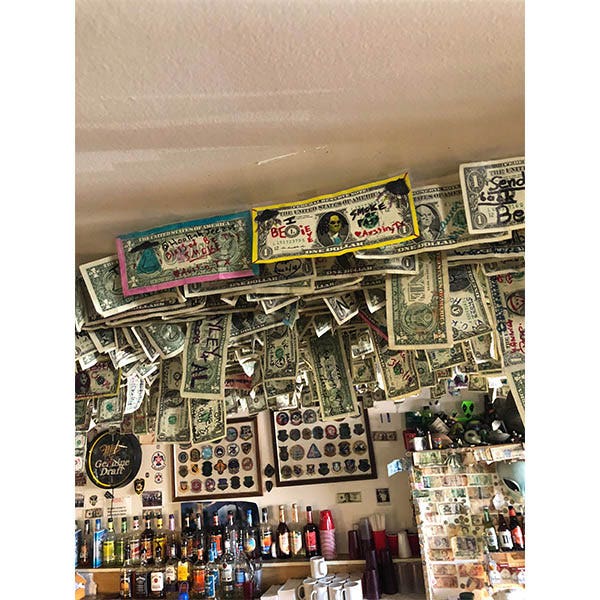 The second thing that caught our eyes were the multitude of $1 bills hanging from the ceiling; donations that feature alien drawings or messages. We were informed that the money gets collected at a certain point and donated to a local hospital. So we added our very own dolla bills to the ceilings with some authentic Austin flair.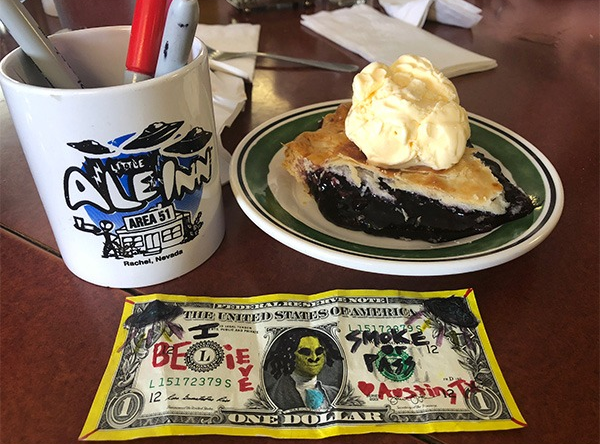 We ate our burgers and ordered desert after discovering they make their own pies, blueberry was the group favorite because Alienfruit confused all of us. It was pecan. PECAN = ALIENFRUIT? Pecans = fruits?
Next Stop Area 51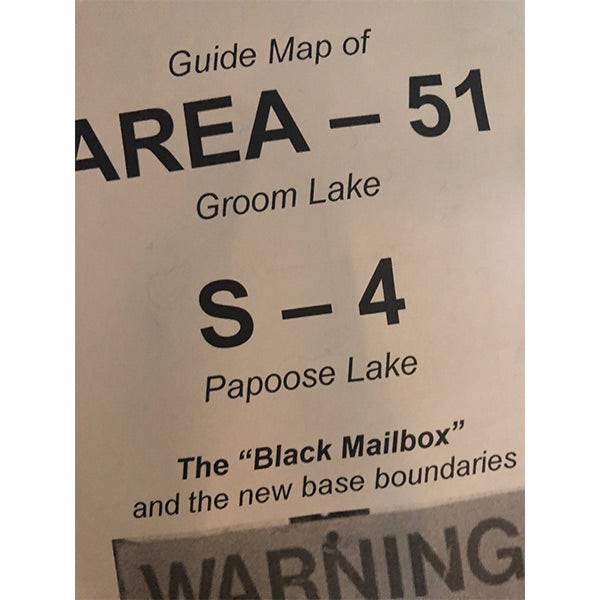 Once we couldn't eat a single bite more, it was time to embark on the final leg of our journey to Area 51. We asked our knowledgeable waitress how we should make it out to the gate and she provided us with a map. It's was $0.33 but worth it.
"Right up the street", we went up to the second right turn and drove on an unmarked road for about 20 miles. It was bumpy, dusty, and more importantly empty. Eerie empty. I was the driver of this mission and the vibes in the car were a mix of fear and anxiousness.
We could see the gate, the gang said we're good right here (a football field distance to the gate) but I'm thinking if we made it this far, let's go all the way.
So we drove closer to the gate, I put the car in the park, we hopped out, and walked to the gate. Once again, it was WAY TOO QUIET. We posed for some photos, snapped a quick video, and took a moment to take in the surreal vibes.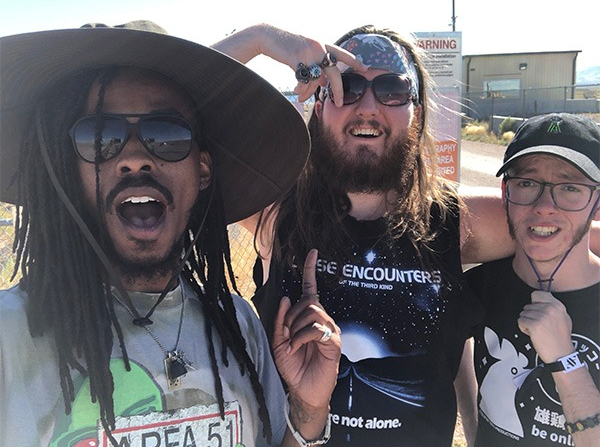 We smiled for their cameras as we now believe that we're on some sorta "list", like THEY know we were out there (GPS tracking, big brother, etc.). There was noone manning the guard post from what we could tell, but with today's technology I can visually answer my front door with a phone and not get off the couch.
The goal was to smoke a hookah at the gate or near it. Then the idea of creating a bunch of smoke at the gate of Area 51 seemed like a bad move, not to mention it was 115 in this desert. After scoping things out, the next time we're gonna smoke outside the restaurant in cooler weather.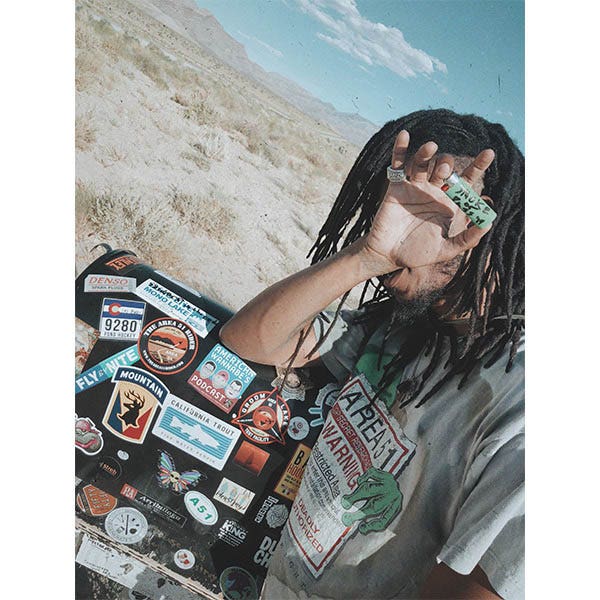 We boogied away from the gate and passed the feared white security truck coming in as we were leaving. The final stop before leaving Rachel was the black box (black mailbox). A two-way communication device between us and "them". We left some pieces inside and said our final goodbyes to the tiny town.
The Raid
We hope everyone plays it safe if there was any gathering at the gate. The city of Rachel is awesome and we would love to visit anytime we're close. We're hoping the raid doesn't ruin this for everyone in the future.
It was great to have all these experiences as a crew and without a crowd, influencers, or people trying to raid a guarded building.
We felt like it was silly to talk about all this before the "raid date" but now that the day is here, we'll let the cat out of the bag. Your boys made it there and back, and next time there will be a hookah.
The Hookah Podcast Episode 25 - Live From Area 51
Thanks for reading!
-SMOKEorPASS
Categories
Recent Post
Month Lists