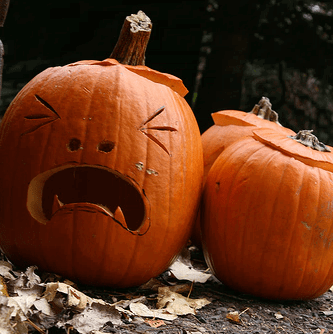 Hookah Spookah! Part 6: Hookah and Shisha Recommendations from Jack O. Lantern
By
Katie
/ October 15, 2014
"Even if you are carving a beaming smile into my face, you are still carving into my face!"
| | |
| --- | --- |
| | Being a Jack-o-Lantern is tough. We are banished to a pumpkin patches for 11 months a year, and then October comes around and everyone decides they want to carve into our faces. As if that isn't enough, now I'm finding out that people are smoking tobacco that is flavored like my extended family! I know, it's hard to believe that there are such cannibals in this world. Pumpkins have rights, you know! Here is a list of a few of the offending products. |
Fantasia Pumpkin Spice Shisha– It's such a shame that adding a dash of cinnamon and nutmeg to a pumpkin flavor is such a delectable treat for humans. I can understand - as my family has great taste - that adding some sweetened flavors to spice up the mixture is ideal for you hookah heathens.
Starbuzz Pumpkin Pie – Mixing pumpkin with spices is certainly understandable, but smashing pumpkins into a pie and creating a spot-on pumpkin pie flavored tobacco?! Ludicrous! So you people feel no shame?
Pumpkin Hookah – Okay, so, I'm admittedly a little flattered by the Pumpkin Hookah. What an adorable little pumpkin shaped base! I am insulted that there is no orange base, but I suppose there are 7 colors from which to choose on the website. Also, $24.99 is quite a low price to sell my likeness. I'm not even receiving royalty checks for this!
Tangiers Jackfruit – I'm pretty sure this fruit was named after me, considering my name is Jack. Let's forget that a jackfruit is a real fruit. For all my torment, I'm claiming this name as my own. I'm also happy to report that Tangiers Jackfruit does NOT contain any pumpkin flavor; rather this is more of a banana and plum raison mixture.
This is my plea to you: purchase all of the pumpkin themed materials that you can. Get them off the shelves! And if nothing else, make sure to enjoy them. A lot of good pumpkins took a fall for your pleasure, and the greatest tragedy of all would be my family getting picked in vain. So fine, smoke a pumpkin, but honor us. Remember us. And above all, happy smoking.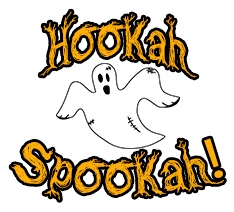 Click here to see all of our Halloween character recommendations here!
Categories
Recent Post
Month Lists