Hookah-Shisha.com turns 9 years old!
By
Grabertrain
/ April 15, 2009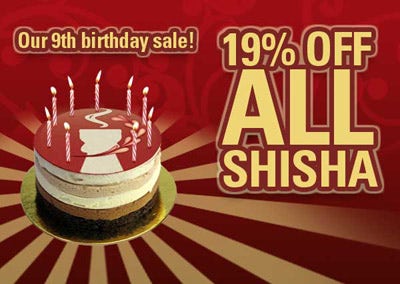 There's nothing quite like celebrating ones birthday, especially if you get to share some of the birthday love. It seems like only a few years ago that we were selling hookahs out of a dorm room and now, thanks to you, we've grown to where we are today - and we certainly couldn't have done it without your continued support and feedback! In celebration of 9 great years proudly serving you, the hookah community, starting today (April 16th) until 9 days from now (April 24), we're taking 19% off all
shisha tobacco
. During the checkout process simply enter the discount code "
hookah-shisha.com
" into the "discount of gift certificate code" box and click the "recalculate" button. Make sure to verify that the discount has been applied before continuing with the checkout process. If you're feeling so inclined to reciprocate some of the hookah love back to us, we would be ever-so thankful! You can do so by: • Bookmarking our website on your browser. • Telling your friends about us. • Posting links to us on your blog, MySpace, Facebook, or anywhere else on the web. • Giving us valuable feeback Once again, we thank you for your support, and happy smoking! The 19% off shisha sale cannot be combined with other discounts, sorry. But wait! We've got other good deals for you loyal hookah fans. In addition to the shisha price drop, each day of the sale we'll be posting a "featured product" with a 19% discount for one day only. Happy Smoking!
Featured Products for Friday, April 24th
-
Nammor Hookah Hoses
and
Golden Quick-Light Hookah Charcoals (40mm)
Featured Product for Thursday, April 23rd
-
Nammor Old School Rotator Hookah
Featured Product for Wednesday, April 22nd
-
Mya Vortex (1 hose) Hookah
Featured Product for Tuesday, April 21st
-
Ba Barkir Hookah Hose
Featured Product for Monday, April 20th
-
Syrian Snake (2 hose) Hookah
Featured Product for Sunday, April 19th
-
Leila Portable Hookah
Featured Product for Saturday, April 18th
-
Ultimate Combo Hookah Bowl
Featured Product for Friday, April 17th
-
Egyptian Scarab (2 hose) Hookah
FEATURED PRODUCT FOR THURSDAY, APRIL 16th: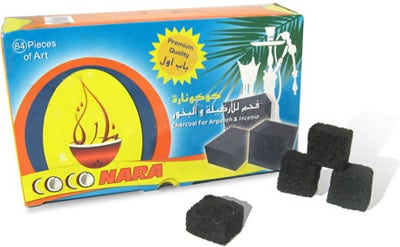 Coco Nara Natural Charcoals (16 pieces)
These natural charcoals are quickly becoming an office favorite - clean burning, long lasting, and no coal taste. For today only (Thursday) we've taken 19% off the list price so you can try out these great coals for a great deal!
Categories
Recent Post
Month Lists