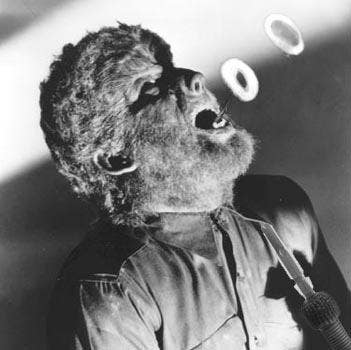 Hookah Spookah! Part 2: Hookah and Shisha Recommendations from The Wolf Man
By
Grabertrain
/ October 23, 2012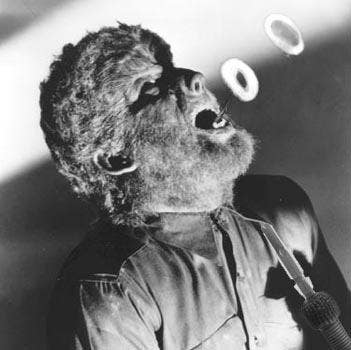 AaaoooOOOoo! It is I, the one and only Wolf Man! Well, it's actually Larry Talbot to my day-dwelling friends, but when a full moon arises at night I become a little, ahem, hirsute, to put it gently.Like my friend Dracula, one of my favorite hobbies is hookah smoking! You may be asking yourself, what does a lycanthrope like myself like to use when engaging in my favorite pastime? Here are my favorite hookah and shisha products that always provide me with a howling-good time!
| | |
| --- | --- |
| | Econo Mya Luna Hookah – What hookah do I like to smoke out of? Why, the Econo Mya "Luna" of course! This moon-inspired hookah makes the hair on my face stand on end, and can even accommodate up to 4 hoses for when my friends the Mummy, Dracula, and Frankenstein's Monster come over for a smoke! |
| | |
| --- | --- |
| Shiazo Steam Stones MAD DOG – Sometimes I like to relax in my backwoods abode and puff on some tobacco-free flavored vapor. Nothing gets a mad dog like me in the mood more than MAD DOG flavor from Shiazo! It's a spicy, peppery energy drink flavor that will make you foam at the mouth with steamy goodness! | |
| | |
| --- | --- |
| | Inhale Sun Moon Stars – When I see a full moon emerging through the clouds and feel my lupine transformation coming, no other flavor gets my fur the fluffiest than sun MOON stars from Inhale Shisha Tobacco! This mixture of cherry, lemonade, and licorice gets my fangs a-flustered! |
| | |
| --- | --- |
| Khalil MaMOON Beast Hookah Hose – Lastly, what kind of hookah hose is perfect for a beast like me? Why of course it's the Khalil MaMOON (see what I did there?) Beast Hose! When I smoke hookah I want the widest, most bad-ass hookah hose on the planet, and nothing does the trick more than this beastly hose. Grrrrr, and I'm not passing it until I'm good and satisfied! | |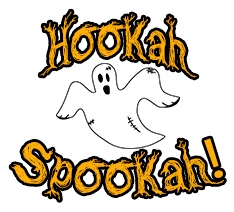 Click here to see all of our Halloween character recommendations here!
Categories
Recent Post
Month Lists