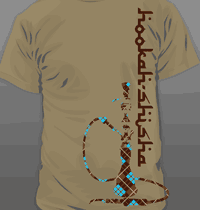 Hookah T-Shirt Contest Winner Announcement
NEW!
The T-shirts are finally in! Please click on our
Hookah T-shirts
blog for the announcement. Thanks to everyone who participated and we thank you for your patience (we know this took too long, sorry) and congratulations to our finalists once again!
"Create any theme you wish, and feel free to submit as many T-Shirt designs as you like!"
That's how it all started. It's been almost 4 months since the contest started and we received a plethora of amazing designs. Selecting the
Top 20 Hookah T-Shirts
was hard enough and we're thankful for all the votes we received from our customers to help select these finalists. Hookah-Shisha.com will be printing these four designs so you can pick up one for yourself and be ultra cool while sharing your passion for smoking hookah with the world. Be on the lookout for Hookah Wear mid-March. The top 4 designs will split $550 in Hookah-Shisha.com credit. You'll notice that there are two third place winners. We originally planned $500 in total prizes, but when the two third place selections came up so close (1 vote difference!) we wanted to make sure both people were well taken care of. We're cool like that. All contestants that were selected in the top 20 will receive a special 20% discount for the next 6 months that is good for them and 2 of their friends as well as a free t-shirt design of their choice!
First PlaceWinner
- $300 in Hookah-Shisha Credit, Free T-Shirt, 20% discount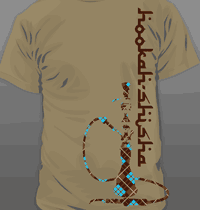 Second Place Winner - $150 in Hookah-Shisha Credit, Free T-Shirt, 20% discount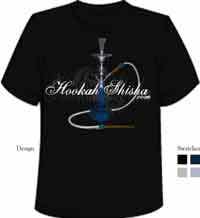 Third Place Winner (Tie) - $50 in Hookah-Shisha Credit, Free T-Shirt, 20% discount
Top 20 Hookah T-Shirts
are featured below.
Design Guidelines:
Design your Hookah tee in a vector art program such as Adobe Illustrator®. Or, design in a raster program such as Adobe Photoshop®. If you are designing in a raster program, make sure you design actual size at at least 150dpi. When you are done, transfer your design to the template picture (shown at bottom,) so that we may have a relative idea of placement. If you are using the photoshop template, save off a copy of your design as a gif, jpg or png. If you are using the flash template, publish your file so that you have a .swf of your design.
Submission Guidelines:
We want every design submitted to "
info@hookah-shisha.com
" to have the best possible chance at being chosen for print. The Hookah & Shisha Central team will review submitted designs and vote internally on the winners. We will also try to post the designs online, and have our website visitors vote on the designs. We allow a maximum of 8 unique colors in designs submitted for this Hookah T-Shirt Design Contest, but for quality sake,
we highly suggest 4 color count (background color will not count).
Submissions will be declined if the design contains more than 8 colors. Each shade of a color counts toward the eight color limit, as do black and white. Common oversights with placement include designing across the tee from edge to edge, carrying a design over a seam onto the sleeves or off the top of the shoulder. We love larger format prints, but a design meant for regular screen printing should be constrained to a 15" x 20" (38cm x 50cm) area.
**A submission will be declined if it contains copyrighted material. Pop-culture inspired designs sometimes have legal issues we would rather not flirt with. If this is the case with the artwork, we may decline it. Hookah & Shisha Central reserves the right to alter all submitted artwork for formatting/printing capabilities sake. We at Hookah & Shisha Central (https://www.hookah-shisha.com) reserve the right to reproduce and sell Hookah T-Shirt designs submitted in the contest..
We would like to thank all of our contestants for their entries, outstanding feedback and the numerous responses we received during this Hookah T-Shirt Contest! Because we had so many entries, you can vote on your favorites to help us narrow down the winners. Be sure to bookmark this Hookah T-Shirt section and check back soon to see who the winners are...
Pick the
worlds best Hookah T-Shirt!
For over 2 months we have been collecting
righteous works of Hookah T-Shirt Art
submitted to www.Hookah-Shisha.com. These 20 Tees have been narrowed down from a large and creative pool of entries, and now it's time for your help! Do us a favor and take a look at these cool designs,
simply click the check-box for any and all the T-Shirts you

personally like
, then at the bottom be sure to click the "Vote 2008" button. We ask that you please only vote once. Once you vote, you will be redirected back to this page. We will show the winners when we have closed the polls...
Top 20 Hookah Shirts
(To see a larger image of the shirt, click on it to bring it into a new window)
| | |
| --- | --- |
| | |
| I revel in Hookah T-Shirt #3 | I elect Hookah T-Shirt #4 |
| | I choose Hookah T-Shirt #6 |
| I prefer Hookah T-Shirt #7 | I yearn for Hookah T-Shirt #8 |
| I prefer Hookah T-Shirt #9 | I crave Hookah T-Shirt #10 |
| I call for Hookah T-Shirt #11 | I favor Hookah T-Shirt #12 |
| I opt for Hookah T-Shirt #13 | I love Hookah T-Shirt #14 |
| I nominate Hookah T-Shirt #15 | I go for Hookah T-Shirt #16 |
| I wild for Hookah T-Shirt #17 | I zeal for Hookah T-Shirt #18 |
| I enjoy Hookah T-Shirt #19 | I relish Hookah T-Shirt #20 |
Categories
Recent Post
Month Lists