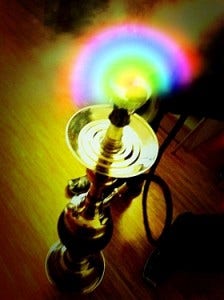 Hookah Tobacco Review: Fantasia Rainbow Burst Hookah Tobacco
By
Jono
/ November 12, 2010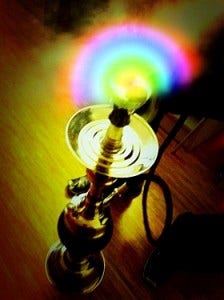 The search is finally over! Since the first day I ever smoked hookah tobacco I have been looking for a hookah flavor that tasted like Fruity Pebbles cereal. Don't deny it. You know every time you pick up a new "fruit" flavor, you want it to smell like Fruity Pebbles. But when you smoke it, you're always a bit sad, right? Well,
Fantasia
Rainbow Burst hookah tobacco is remarkably accurate. With a name like Rainbow Burst I halfway expected it to smell like Skittles. After all it seems as though "taste the rainbow" is exactly what Fantasia set out to do. To give you a brief overall analysis, Fantasia Rainbow Burst hookah tobacco tastes like Fruity Pebbles cereal with a sprinkle of
Romman Sweet Start
. But to be a bit more detailed, I tasted a mild orange, raspberry, cherry, and a tart lemon. Rainbow Burst hookah tobacco is very refreshing and is sure to be a hit amongst hookah lounges. This is definitely a flavor you'll want to smoke with a group of friends. I give this one an 8.5 out of 10. Round up your friends, load up some Fantasia Rainbow Burst and reminisce about the good ol' days. I have a feeling there will be a sense of euphoria throughout the room or hookah lounge. This is one of those hookah flavors that will set the good times in motion! Let us know what you think of Fantasia Rainbow Burst hookah tobacco by leaving comments below. What do you taste? Agree with me? Disagree with me? Let your opinions be heard here! Happy Smoking!
Categories
Recent Post
Month Lists