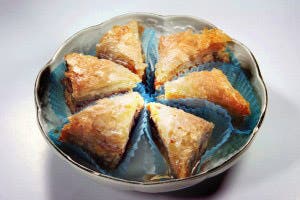 Hookah Tobacco Review: Tonic Hookah Tobacco - Exotic Baklava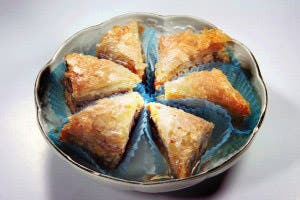 While I do love the fruity and minty hookah tobacco flavors, I like to change it up every now and then. And there is no better way to switch gears than to throw in something creamy and deliciously sweet, like my new favorite dessert flavor,
Tonic Exotic Baklava hookah tobacco
. Trust me when I say this one took me by surprise. I honestly didn't even know what Baklava was until I smoked this. Basically it's a "rich, sweet pastry made of layers of filo pastry filled with chopped nuts and sweetened with syrup or honey", according to the world's most reliable (but not always factual) source, Wikipedia. The aroma is mouth-watering to say the least. Anyone in the known universe would salivate instantly if they opened this tin of Tonic Exotic Baklava and gave it a smell. The following comes to mind, in no particular order: Butter cream, rich, spice, honey, nutty, graham cracker-ish, vanilla, oh and yummy. Your first thoughts will be, "man this really tastes like a warm, fresh cinnamon roll." With a pinch of vanilla and cinnamon, Tonic Exotic Baklava also has a spice flavor/vibe that I can't accurately pin down. It's super creamy and super juicy so do not be caught off guard without your
Phunnel Bowl or Vortex Bowl
ready to go!
Let us know what you think about Tonic Exotic Baklava hookah tobacco by leaving comments below or by posting on our Facebook page! We'd love to hear from you! Happy Smoking friends!
Categories
Recent Post
Month Lists