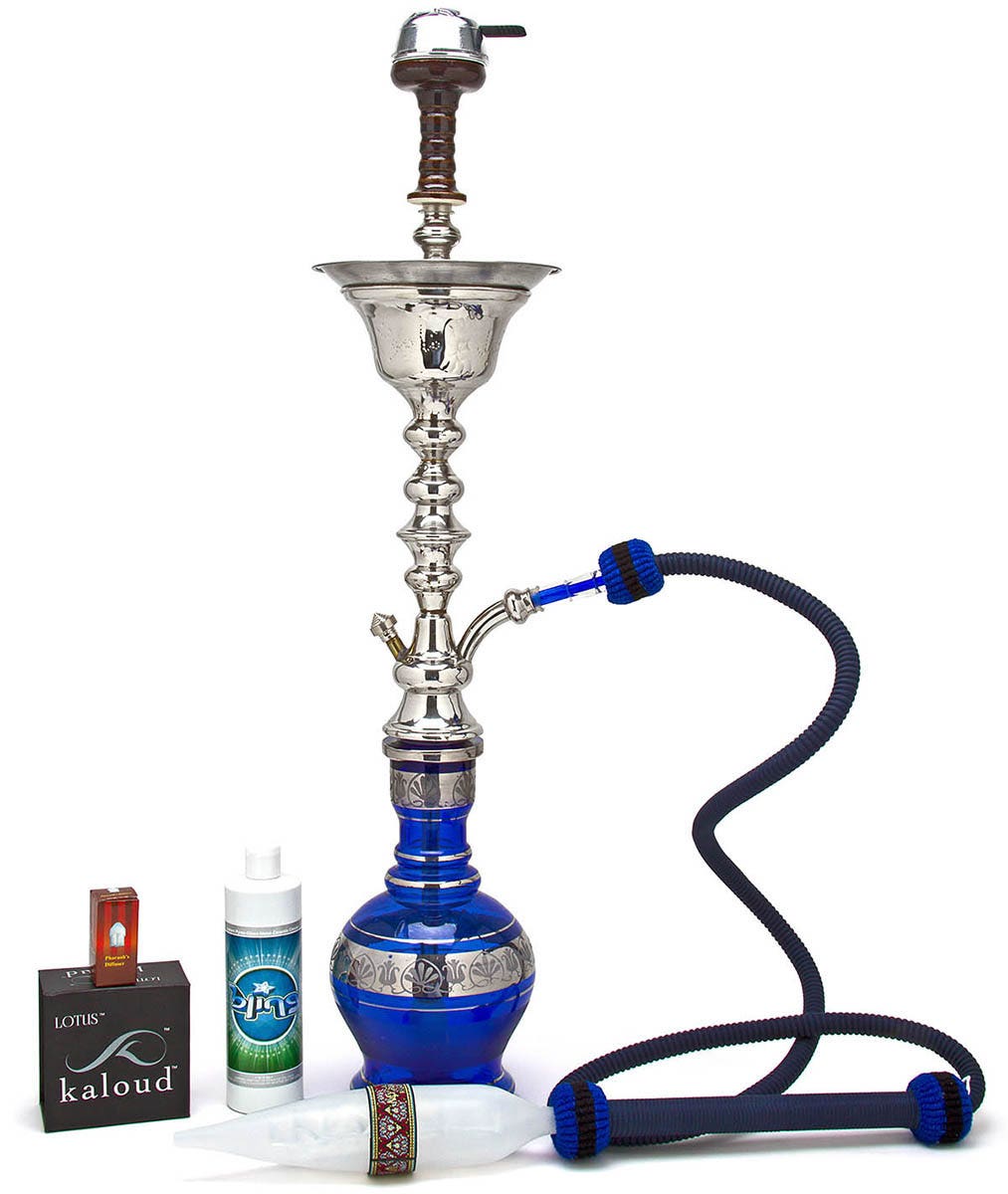 How to Build a Custom Khalil Mamoon Hookah
By
Terance
/ November 14, 2014
What's that? You're a huge Khalil Mamoon fan, but you'd like to piece together your own custom KM hookah? Behold! Now you Kan Make your own, with Hookah-Shisha's new custom hookah building options. Kool, Man!
Khalil Mamoons are some of our best-selling hookahs, well known and respected in the hookah world. With an amazing plethora of Khalil Mamoon vases and Egyptian bases to choose from, the possibilities are practically endless when it comes to building a custom hookah around a Khalil Mamoon stem.
We built our own awesome Khalil Mamoon hookah just to give you an idea of the type of masterpiece you can now create. We call this one: The Khalil Mamoon Ice Monster. Keep scrolling after the picture for a walkthrough on how we built this chilly custom hookah.
A Custom Khalil Mamoon Hookah Example
Building a Custom Khalil Mamoon Hookah
Step 1: Pick out your stem (shaft) from the Hookah Stems category. We currently have a handful of Khalil Mamoon stems available, such as the famous Trimetal and Classic Ice stems. For the Ice Monster, we picked the KM Classic Ice stem.
Step 2: After you've picked a stem, use the drop down menus on the stem page to select a compatible hookah base, bowl, and hose. All of the listed options are guaranteed to fit, and your stem will also come with a grommet pack that should provide every type of grommet you may need to get a good seal.
For the Ice Monster, we picked a large blue Cleopatra base, blue Rutile Harmony bowl, and blue Nammor hose. There will also be several options for accessories you may want to include (the Ice Monster, for example, comes with a Khalil Mamoon tray, Mystique Ice Hose Tip, Heba Diffuser, Kaloud Lotus, and a bottle of Bling! for cleaning).
And that's it! You just built a custom Khalil Mamoon hookah. If you scroll to the bottom of each stem page you will be able to see pictures of all of the different configuration options so that you can visualize your dream hookah a bit better.
For a limited time, to encourage people to try out our new custom hookah configurations, we are offering 10% off of any hookah stem, base, bowl, and hose purchased together. Just use the code "Custom10" at checkout for the discount to be applied. Happy smoking!
Categories
Recent Post
Month Lists