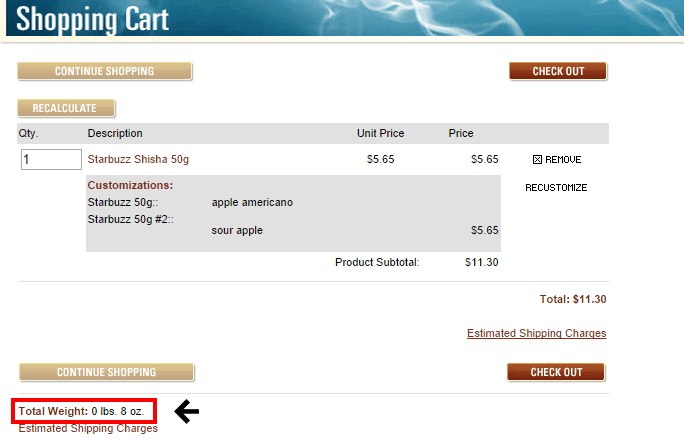 New Cheaper Shipping Options at Hookah-Shisha.com
By
Danny
/ October 3, 2014
Howdy, hookah friends. We take customer feedback very seriously here at Hookah-Shisha.com and the most common feedback we have heard lately is that our shipping is too high on small orders. We have heard you loud and clear and in an attempt to help you all out we are adding $3.99 shipping for select order sizes. Want to know if your next order qualifies? Read on and we'll break it all down.
How Can I Get $3.99 Shipping?
$3.99 shipping is available as long as your order is shipping to a destination within the United States and your total order weight is 10 ounces or less.
How Do I Know If My Order Is 10 Ounces Or Less?
Simply click the "My Cart" button at the top of the page and you will be shown the current contents of your shopping cart. If you look at the bottom left corner of the shopping cart, below the gold continue shopping button, you will see the total weight of your cart. As long as it says 10 oz. or less, and you are shipping within the USA, you are all set.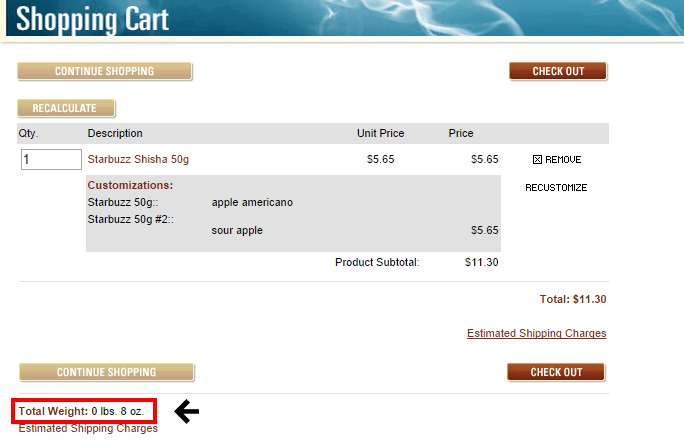 So How Do I Get This Cheap Shipping Rate?
If your order qualifies, when you are selecting your shipping provider and speed, there will be a third option called "Other Shipping Options", after USPS and UPS, which you can select from the drop down menu. This will then allow you to select "USPS First Class Parcel" as your Service Type for $3.99.
It's as simple as that. Now that we've talked about how to get cheaper shipping, you are probably thinking - "But what can I buy from you that's under 10 ounces?" Check out a few sample orders that will qualify for $3.99 shipping.
How About Free Shipping Deals?
As you can see, there are lots of small orders which will qualify for $3.99 shipping, but we understand that a lot of you want to order more. Don't worry there is a FREE shipping option for people who spend over $100. With a $100 cart size you qualify for Free UPS Ground Shipping by using the code "FreeShip100" at checkout. We hope you all love these new changes. We hope to offer even better, and cheaper, shipping options in the future as well.
Categories
Recent Post
Month Lists