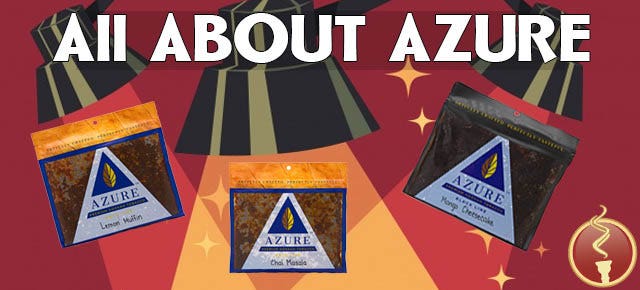 Introducing Azure Hookah Tobacco - Now Available
By
SmokeOrPass
/ October 4, 2018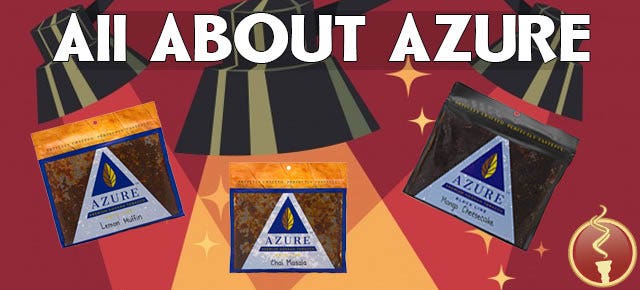 Lemon Muffin, Chai Masala, and Mango Cheesecake.
Can you believe those are real hookah flavors? They're all handcrafted by the Azure Hookah Tobacco team out of California. We introduced a small selection of their flavors earlier this year and lately we've picked up more flavors thanks to your feedback.
Currently there are over 50 blends available split across two styles of tobacco, gold leaf and dark leaf. This tobacco will arrive in a resealable pouch with two size option available, 100g or 250g.
Azure Gold Line Shisha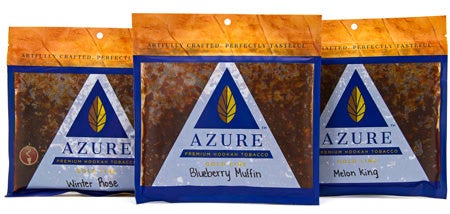 The Azure gold allows anyone to enjoy the blend because it's very easy to use and it doesn't produce a strong buzz. Their collection of hookah flavors is very unique and contains few single note flavors like Orange or Mint. Instead they have a blends like Winter Orange that produces a multi dimensional orange taste with a slightly sweet cold mint.
How To Use Azure Gold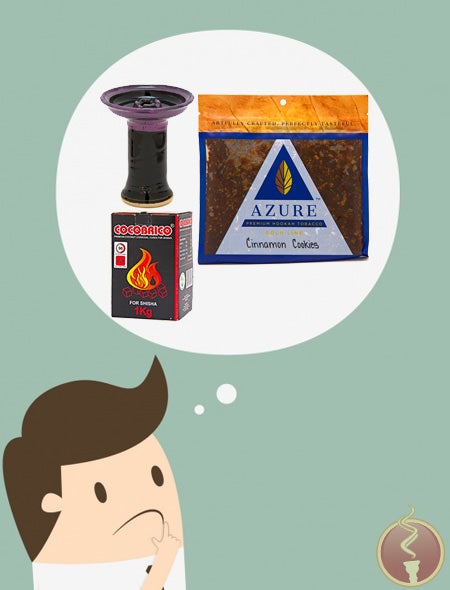 Azure requires minimal effort to pull off a cloudy session with full flavor and we have some tips for you. Their flavors arrive in a resealable pouch and before we get anything started take a moment to squeeze the pouch to get the juices flowing.
There is no required bowl for this collection so choose your favorite and sprinkle fill up to the rim of your bowl. Adjust this preparation to your liking as some of us here prefer a denser pack to the underside of the rim.
Azure Black Line Shisha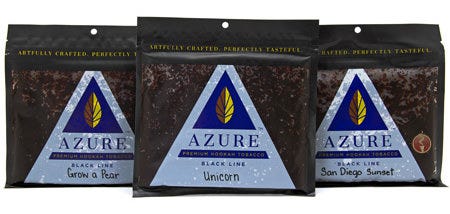 Azure Black is their high nicotine blend crafted for fans of the buzz with a stronger flavor. It arrives in a darker packaging than the gold line but still resealable for freshness. Each of the blends have strong enough flavoring to stay on atop of the dark tobacco notes during your session to create a slightly sweeter dark leaf session.
These flavors blends are shared across both lines but the Black Line adds a heavier profile and slightly longer smoking experience.
How To Use Azure Black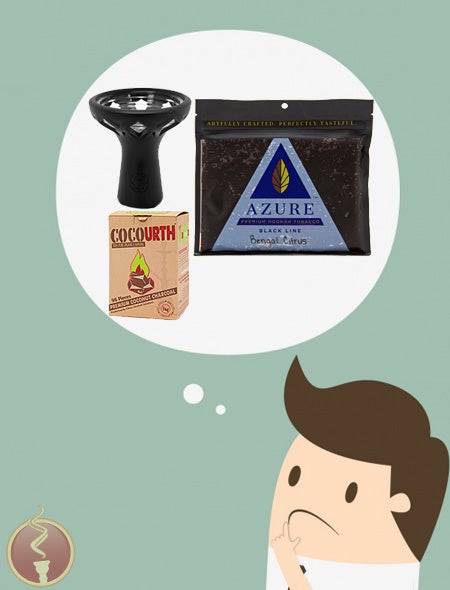 This dark leaf blend will not be hard to figure out and it's ready to go right out the package. We've enjoyed this tobacco in Egyptian bowls and just about all the modern styles, if you have a particular bowl that you like to use for dark leaf just stick with that one.
One of our warehouse hero John uses a super dense pack and really enjoys his session while attaining huge clouds, where as I like to press down slightly but not much with the same results.
Just make sure to mix up the tobacco a little before smoking.
How To Heat Azure
Azure tobacco can be used with any style of heat management device. The Winter Rose blend is sweeter with a lotus and colder with foil, so it's like two flavors in one.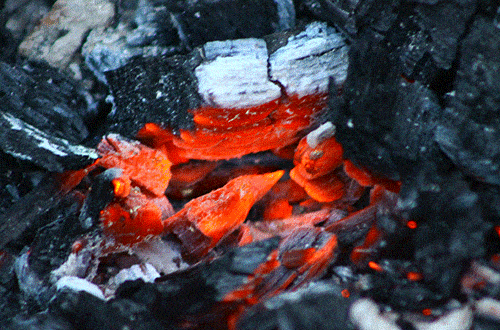 You can use natural coconut charcoal or quick lights to get your session started. The heat-god Sean in customer service uses 4 coconut cubes on his bowl and I use 3 cubes in the Lotus or on foil.
If a bowl is ever too hot just remove a coal, you don't need to fight through it. That's silly.
Are You Enjoying Your Azure!
Let us know what Azure flavors you've enjoyed or plan to enjoy in the comments below!
Thanks for reading
YOU ROCK!
Shaunn
SMOKEorPASS
Categories
Recent Post
Month Lists