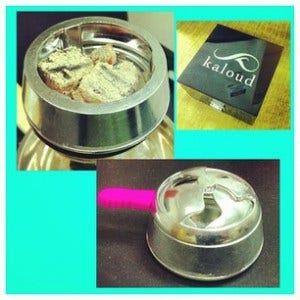 Kaloud Lotus Heat Management System
By
Admin
/ February 18, 2013
Every time you get the latest version of the iPhone and think, "It can't get any better than this," Apple comes out with an iPad, or an app, or a hamster time machine that raises the bar. Turns out that the hookah world is no different! You may have the Khalil Mamoon hookah with the Vortex Bowl and the Soguk Cooling Ice Tip, but do you have the Kaloud Lotus?
This new heat management system from the innovative people at Kaloud have taken off the hole-poked foil, and given us a simple, elegant contraption that was specifically engineered to regulate the transfer of heat from the hookah charcoal to the shisha tobacco.
How Does It Work?
| | |
| --- | --- |
| | - Place the Kaloud Lotus directly on top of a hookah bowlthat has been loaded with shisha.- Remove the rotating top and place hot coals insideof the Lotus. - Put the top back on, and give your bowl a few minutes to heat. - Use the rubber handle to rotate the vents as needed to regulate heat ventilation. - Smoke away! |
What Are The Benefits?
| | |
| --- | --- |
| | - Significantly reduces the amount of ash, ultra fine particles, and chemicals that pass through the shisha tobacco, providing a smoother, cleaner, and more flavorful hookah smoking experience.- Eliminates the need for hookah foil or aluminum bowl screens. - Extends the life of your hookah smoking session. - Requires very little charcoal rotation, allowing for a relaxing, hassle-free hookah smoke. |
Categories
Recent Post
Month Lists