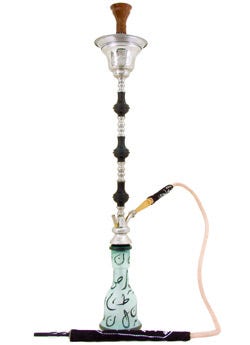 Khalil Mamoon Hookahs: The First Round of the Winter Models
By
Grabertrain
/ November 2, 2012
People can't seem to get enough KM Hookahs - at least based on the requests and demand we get on a daily for these famous Egyptian imports. Well, good news to you all! Our warehouse is chock-full of brand new models that have never been seen in our store, and we'll be releasing a few each week! Well, let's not delay any further, we know what you folks want, so here they are!

The first KM hookah has not one, not two, but THREE "pears" in the stem! The 2nd contains a never-before seen decorated glass base, and the 3rd is the "ice" version of a KM Hookah we released in the fall, the "KM Black Single Pear Hookah," and comes with an often-requested black "letter" glass base. Bam! Check back next week or follow us on Facebook or Twitter for news of the 2nd round! Happy Smoking!
Did you miss the introduction of our Fall Models?
Categories
Recent Post
Month Lists