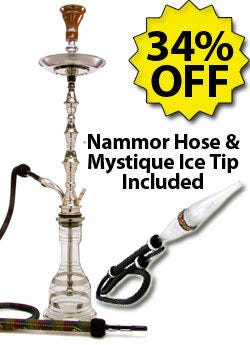 Khalil Mamoon Hookah Sale!
By
Grabertrain
/ October 1, 2013
ALL Khalil Mamoon Hookahs are On Sale for 15% - 34% off!
Get a fantastic Khalil Mamoon Hookah for 15% off all week long! If you're looking for an even better deal, these two KM hookahs come with upgrades and you get it all for 34% off! Sale ends October 7, 2013.
| | |
| --- | --- |
| Khalil Mamoon Shamadan Tall Hookah - Named after its resemblance to the traditional chandelier headpiece worn by belly dancers - this beautiful hookah stands at 35 inches tall and features a solid silver colored hookah shaft with a single wide-bore hose adapter. Select from either a frosted white glass base with gold decorations or a clear base with silver stripes. The included signature black KM hookah hose measures 72 inches in length and provides the smoothest and easiest draws of smoke that can only be experienced with KM hookahs. For a limited time, this hookah comes with an additional Nammor Hose and Mystique Ice Tip! | |
| | |
| --- | --- |
| | Khalil Mamoon Silver Shareef Hookah - A sleek and stylish silver-colored hookah with a unique blue or red decorated glass base!. Standing at 39 inches tall and featuring a single wide-bore hose adapter, for a limited time this hookah comes with a Nammor Hose and Mystique Ice Tip! This hookah also comes standard with either a unique 72 inch-long blue KM signature hookah hose (with the blue glass base) or a hose with a black handle and white crisscross patterns on it (with the red glass base). |
Categories
Recent Post
Month Lists