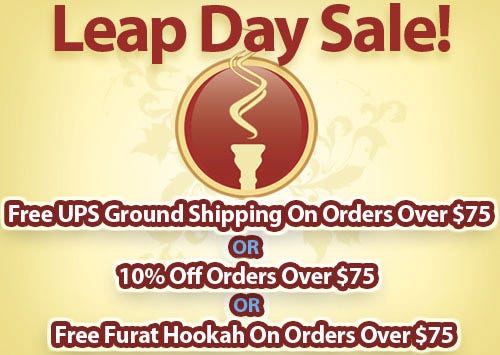 Leap Day Sale! Free UPS Ground Shipping and More!
By
Grabertrain
/ February 28, 2012
Edit 3/1/12:
This promotion has come to a close, sorry. We'll be having more sales and promotions in the near future, so stick with us! Happy Smoking!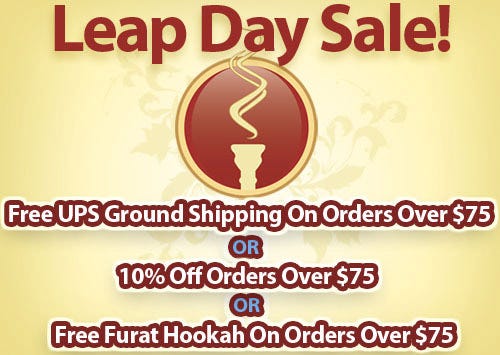 2012 is a no ordinary year, in fact it's a Leap Year! That means there is an extra day this month and we are having an extra special sale to celebrate this special occasion which only comes around once every 4 years. Our Leap Day sale gives you 3 different ways to save on orders over $75. The first option is always a popular request, FREE UPS GROUND SHIPPING! As long as your order total comes to at least $75, UPS ground shipping within the contiguous 48 US States is completely free, until February 29th at midnight, when you use the code below at checkout.
LeapDayFreeGround75 – Free UPS Ground Shipping on orders over $75
OR
For those who live outside of the shipping area for UPS Ground or are interested in other types of savings, don't fret, there are options available for you as well. Your second option is 10% off any order over $75, and this includes all of our already marked down and on sale items! This is a perfect opportunity to stock up on hookah charcoal, shisha, and all of those hookah accessories you have been dreaming about. Just use the code below when checking out to receive 10% off of your order total.
10Off75LeapDay – 10% off of any order over $75
OR
For your third option, we have taken one of our most popular coupons and have sweetened the deal. All orders over $75 now qualify to receive a
Free Furat hookah
! This hookah may be small in stature but it has what it takes to battle with the big boys. Normally available for free on orders over $100, we have slashed that down to $75 for this special Leap Day sale. To receive a free Furat with your order of $75 or more, just click
here
to get the coupon codes.
This sale will end on Wednesday, February 29 at Midnight CST. Happy Smoking!
Categories
Recent Post
Month Lists