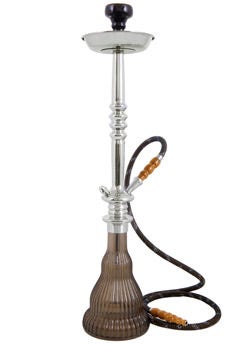 Mya Saray Hookahs - New Econo Mya Acrylic II Hookah!
By
Grabertrain
/ April 12, 2012
The Mya Saray Company has been around for over 40 years and originally made bohemian crystal ware such as chandeliers and vases, to name a few. They're now known for producing some of the most sought-after and elegant hookah pipes in the world! From the smallest
Mya Petite Hookah
to the towering
Mya Colossus Hookah
, and even hookahs with bohemian crystal bases such as the
Crystal Mya Hookahs
, known as the "Rolls Royce of Hookahs." Several years ago they launched a new line of hookahs they dubbed the "Econo" line, which are hookahs produced with more cost-effective manufacturing techniques. The stem is composed of sturdy aluminum as opposed to steel, and the glass is made in China instead of Europe. The quality is the same, and they are compatible with all other Mya components such as
hose adapters
and downstems. The newest Econo Mya hookah to hit our shelves is the
Mya Acrylic II Hookah
. This is the first Econo Mya Hookah with an acrylic base, which is less prone to breakages were it to be accidentally dropped, and without any grommet to fiddle with, ensures an air tight seal every time you smoke! Another popular
Mya Hookah
with an acrylic base is one we've affectionately dubbed the
Mya "Artoo" Hookah
because we once carried a companion hookah in gold that we called the
"Threepio" Hookah
which is sadly sold out (edit. Threepio's are
BACK IN STOCK!
) These ARE the droids you're looking for!
Happy Smoking!
Categories
Recent Post
Month Lists