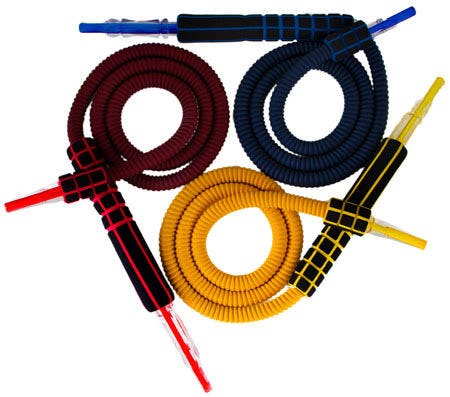 Nammor Hookah Hoses: 3 New Versions of the World's Most Popular Hookah Hose!
By
Grabertrain
/ July 20, 2012
Often imitated but never duplicated, the original Nammor Hookah Hosebroke new grounds when it was first introduced well over half a decade ago. As the first wide gauge, fully washable hookah hose available in the U.S., it continues to live up to its nickname - the "indoor cloud machine"!

We're proud to introduce three new versions of this legendary washable hose, all with the same diameters and wide draw as the original but with a variety of lengths and new features. First off, we present the Fretted Nammor Hookah Hose: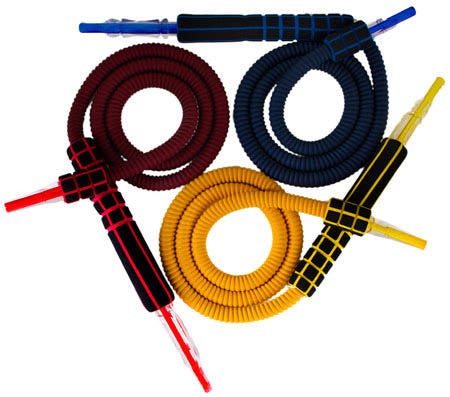 Measuring 72 inches in length, the handle is made of a soft, spongy material and the linear criss-cross patterns earned it the nickname "Tron hose" here at H-S headquarters. Currently available in 3 colors, this hose will certainly give your hookah a neoteric accent.

| | |
| --- | --- |
| | This hookah hose has an impressive 16 inch long handle and, for the first time on a Nammor Hose, a "heel" which is basically a shorter version of the handle on the opposite end (a feature made popular by some Khalil Mamoon Hoses). With black and white wrappings along the handle and heel, this stellar hose measures a total of 7 feet (84 inches) and is available in 9 different colors to match any hookah available. |
| | |
| --- | --- |
| Measuring the same length as the Wrapped Nammor Hoses above (84 inches) the "Banded" Nammor Hookah Hose has a single white band wrapped around the handle and heel, and also features threaded tufts woven into the ends instead of the "sweatband" style decorations. Currently available in 4 colors, this hookah hose will add frills and thrills to your smoking sessions! | |
Related Posts:
Hookah How To: Cleaning a Washable Hookah Hose
Hookah Tips: A Smarter Way to Clean Your Nammor Hose
Nammor Hookah Hose Accessories:
Mystique Hookah Ice Hose Tip – Taking the "Chill Factor" of Hookah Smoking to the Next Level
Nammor Hookah Hose Glass Mouthpieces – Add Some "Flair" to your Nammor Hose!
Soguk Cooling Hookah Hose Attachment – Experience the Coldest Hookah Smoke Possible!
Categories
Recent Post
Month Lists