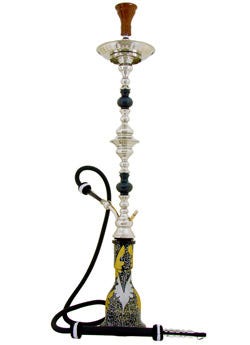 Nammor Hookahs: New Fall Model Extravaganza part 2
By
Grabertrain
/ October 5, 2012
We made Nammor hookahs to be as perfect of a hand-made Egyptian hookah as possible, but at this point you probably already know that. Heck, just read some of the reviews to see what folks are saying about them (aw shucks...). I don't mean to toot our own horn here, but I can say this with confidence: Mission accomplished! So, here's the next round of Nammor Hookahs that were designed, engineered, and manufactured on a metal lathe under our direct supervision. Did you miss the first round? Click here my friends. Now let me take you on a tour!
| | |
| --- | --- |
| The Nammr Veneer Hookah is a twist on the old "double pear" style of Egyptian hookah stems, with a "flying saucer" as we like to call it in the center. While currently only available in black, this charming hand-made work of art stands at 43 inches tall and makes a great centerpiece for your smoking nook. You have a smoking nook, right? | |
Nammor Chandra (1 hose) Hookah

Named after the lunar deity in Hundu mythology (and also an X-ray observatory currently orbiting our planet), the 42 inch tall Chandra Hookah has an all silver-colored stem with one brass piece in the center. You know, just for a little aesthetic juxtaposition. Don't like green? The Chandra has three other base colors to choose from, which have bright hand-painted designs and adds a little flair to your smoking session.
Nammor Silver Scion (1 hose) Hookah

The voluminous large Egyptian Cleopatra Glass Base on the Silver Scion hookah allows for dense, thick smoke and the top ice chamber is the proverbial icing on the cake. At 42 inches tall this hookah has a slender "ribbed' stem and an extra wide tray about as wide as a dinner plate. Go for the modern look with the clear base as seen in the pictures, or choose from four other colors that will come with matching Nammor Hoses.

By the way, this hookah looks extra sweet with a Chrome Nammor Hose and a silver Vortex Hookah Bowl:
Be sure to check out the models we'll be introducing next week, because we've saved the best for last! Happy Smoking!
Categories
Recent Post
Month Lists