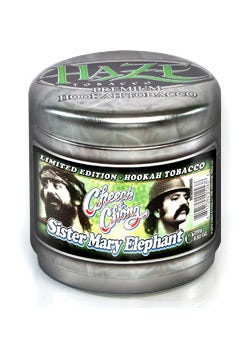 New Haze Shisha Flavors
By
Danny
/ November 4, 2014
Haze shisha tobacco has released their newest batch of shisha flavors and we've got them all! Check out our quick flavor reviews before and head over the Haze shisha section to grab them all. Haze is a modern, American-made hookah tobacco brand which is recommended for fans of Starbuzz, Fantasia, Fumari, and Social Smoke shisha. Enjoy!
| | |
| --- | --- |
| | Haze Cheech and Chong - Sister Mary Elephant – There's a distinctive smell to this shisha when you first open the tin. It's reminiscent of sour citrus candies you may have had as a kid. When you load it up and begin to smoke the sour candy flavor really comes through with a nice berry layer that adds a bit of sweetness. It's a yin and yang thing that balances out very well. |
| | |
| --- | --- |
| | Haze Cheech and Chong - Still Smokin – This one smells great in the tin. We could not wait to try it out. The flavor is a sweet berry mix with a bit of pineapple that hits the tip of your tongue. The pineapple is a nice addition to a pretty straight forward berry blend flavor. |
| | |
| --- | --- |
| | Haze Candylicious – Open this tin up and give it a sniff and you'll get a nose full of sweet tarts. That's what it smelled like to us anyway, your nose might pick up another sweet candy flavor because, you guessed it, candylicious flavor tastes like candy. This one will be a hit with new smokers or those who just love a sweet dessert bowl. |
| | |
| --- | --- |
| | Haze Chocolate Ice – The smell is just like after dinner mints. The chocolate taste is rich and sweet and the mint cuts through nicely. You get a solid cooling feeling from the mint and the chocolate does not overpower. |
| | |
| --- | --- |
| | Haze Le'Mint – Great smell upon first opening this tin. The citrus-y lemon smell hits you right in the nostrils. If you have smoked other lemon mint flavors before than you know what to expect here. As with other Haze flavors, the flavor lasts a while and stays strong, giving this lemon mint blend a leg up on other offerings. |
| | |
| --- | --- |
| | Haze Trash Can Punch – This flavor takes me back to college house parties, and I'm pretty sure that's what Haze intended. If you've never had trash can punch before, it's just a mixture of anything sweet and drinkable you've got laying around and a bunch of liquor. Super classy. This flavor takes the punch part and leaves out the liquor, which is probably for the best. It's a sweet fruit punch flavor that would be great for new smokers or fans of very sweet fruit mix flavors. |
You can find all of our Haze shisha tobacco flavors here in 100g or 250g sizes.
Categories
Recent Post
Month Lists